Csharp programming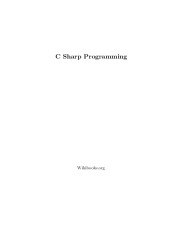 Download C# PDF Tutorial for free, it consisting of 29 chapters and 175 pages covering all the most important C# concepts. This tutorial is intended for beginner programmers, and we recommend you to go through all the chapters, to get the most out of it as possible.
Table of contents
Foreword 
Getting started with C# 
Basic syntax 
Naming conventions 
Variables 
Operators 
Data structures 
Control statements 
Exceptions 
Namespaces 
Classes 
Objects 
Encapsulation and accessor levels 
Inheritance
Interfaces
Delegates and Events
Abstract classes
Partial classes
Generics
Extension methods
Object Lifetime
Design Patterns
.NET Framework Overview 
Console Programming 
Windows Forms 
Collections 
Threading 
Marshalling 
K-Means++
| | |
| --- | --- |
| Pages : | |
| File type : | pdf |
| Downloads: | 848 |
| Submitted On: | 2019-05-01 |
| License: | |
| Author(s): | |
Take advantage of this course called Csharp programming to improve your Programming skills and better understand C#.
This course is adapted to your level as well as all C# pdf courses to better enrich your knowledge.
All you need to do is download the training document, open it and start learning C# for free.
This tutorial has been prepared for the beginners to help them understand basic C# Programming. After completing this tutorial you will find yourself at a moderate level of expertise in C# from where you can take yourself to next levels.
This tutorial is designed for C# students who are completely unaware of C# concepts but they have basic understanding on Programming training.
Tutorials in the same categorie :