Introduction to Visual Studio and C#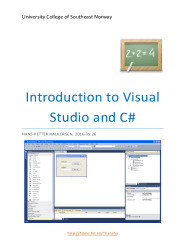 Table of Contents
Tutorial: Introduction to Visual Studio and C#
Oriented Programming (OOP)
Visual Studio
Introduction
Getting Started
Integrated Development Environment (IDE)
New Project
Solution Explorer
Toolbox
Editors and Designers
Properties window
Build and Debug Tools
Windows Programming
Windows Forms
WPF
Hello World
Getting Started with C#
Data Types and Variables
Boolean type
Numeric types: Integrals, Floating Point, Decimal
String type
Arrays
Control Flow
The if Statement
The switch Statement
Loops
The while Loop
The do Loop
The for Loop
The foreach Loop
Methods
Nonstatic Methods
Static Methods
Namespaces
Classes
Constructor
Properties
Naming Convention
Oriented Techniques
Inheritance
Polymorphism
Encapsulation
Exception Handling
Windows Forms Example
Web Programming
Introduction
HTML
Web Browser
CSS
JavaScript
AJAX/ ASP.NET AJAX
Silverlight
Database Programming
| | |
| --- | --- |
| Pages : | |
| File type : | pdf |
| Downloads: | 1092 |
| Submitted On: | 2017-12-28 |
| License: | |
| Author(s): | |
Take advantage of this course called Introduction to Visual Studio and C# to improve your Programming skills and better understand C sharp.
This course is adapted to your level as well as all C sharp pdf courses to better enrich your knowledge.
All you need to do is download the training document, open it and start learning C sharp for free.
This tutorial has been prepared for the beginners to help them understand basic C sharp Programming. After completing this tutorial you will find yourself at a moderate level of expertise in C sharp from where you can take yourself to next levels.
This tutorial is designed for C sharp students who are completely unaware of C sharp concepts but they have basic understanding on Programming training.
Tutorials in the same categorie :