Home
»
Programming
»
A Python Book: Beginning Python, Advanced Python, and Python Exercises
A Python Book: Beginning Python, Advanced Python, and Python Exercises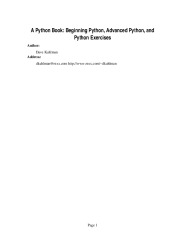 This document is a selflearning document for a course in Python programming.
This course contains a part for beginners, a discussion of several advanced topics that are of interest to Python programmers, and a Python workbook with lots of exercises.
Contents
Introduction Python
Beginning Python
Names and Tokens
Blocks and Indentation
Doc Strings
Operators
Strings
How to use sequences
import statement
assert statement
global statement
Functions
A basic function
A function with default arguments
Argument lists and keyword argument lists
Modules
Packages
Acknowledgements and Thanks
Regular Expressions
Defining regular expressions
Compiling regular expressions
Using regular expressions
Unit Tests
Defining unit tests
Create a test class
Extending and embedding Python
Special purpose parsers
Writing a recursive descent parser by hand
Creating a lexer/tokenizer with Plex
A survey of existing tools
Implementing Packages
Using Packages
Distributing and Installing Packages
End Matter
Numbers
Literal representations of numbers
Operators for numbers
Methods on numbers
Lists
Literal representation of dictionaries
Operators on dictionaries
Methods on dictionaries
Files
Exceptions and the try:except: and raise statements
Functions
Optional arguments and default values
Objectoriented
Pogramming and classes
Stacked decorators
More help with decorators
Step generate
The bindings
Add applicationspecific code
the test application
Python hints
| | |
| --- | --- |
| Pages : | 214 Pages |
| File type : | pdf |
| Downloads: | 248 |
| Submitted On: | 2020-08-27 |
| License: | Open Source MIT License |
| Author(s): | Dave Kuhlman |
Take advantage of this course called A Python Book: Beginning Python, Advanced Python, and Python Exercises to improve your Programming skills and better understand Python.
This course is adapted to your level as well as all Python pdf courses to better enrich your knowledge.
All you need to do is download the training document, open it and start learning Python for free.
This tutorial has been prepared for the beginners to help them understand basic Python Programming. After completing this tutorial you will find yourself at a moderate level of expertise in Python from where you can take yourself to next levels.
This tutorial is designed for Python students who are completely unaware of Python concepts but they have basic understanding on Programming training.
Tutorials in the same categorie :