Download Struts Tutorial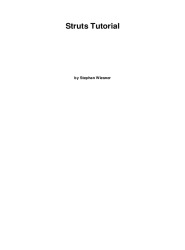 This is a tutorial for the Struts framework. It consists of a small application which is developed step by step.
A free pdf training material course on 67 pages by Stephan Wiesner.
Struts: what does it is ... The Struts library is a framework that helps construct web applications respecting the architectural model MVC This is a library that provides the minimum of rules to build a professional web application (separation of trades and therefore skills) Struts is a project supported by the Apache Software Foundation.
Table of contents
Introduction
Installation of Struts
Simple JSP
Struts For Internationalisation
Struts for Forms
Struts:Introducing the ActionForm
Handling Invalid Entries
Using Logic
Advanced Logic
Templates
From Beans to XML
Replacing JSP with XSLT
Installation of ANT
What is ANT
Configuration of ANT
Usage of ANT
Conclusions
Large Scale Example
Solutionsto Exercises
| | |
| --- | --- |
| Pages : | |
| File type : | pdf |
| Downloads: | 112 |
| Submitted On: | 2016-07-02 |
| License: | |
| Author(s): | |
Take advantage of this course called Download Struts Tutorial to improve your Programming skills and better understand Struts.
This course is adapted to your level as well as all Struts pdf courses to better enrich your knowledge.
All you need to do is download the training document, open it and start learning Struts for free.
This tutorial has been prepared for the beginners to help them understand basic Struts Programming. After completing this tutorial you will find yourself at a moderate level of expertise in Struts from where you can take yourself to next levels.
This tutorial is designed for Struts students who are completely unaware of Struts concepts but they have basic understanding on Programming training.
Tutorials in the same categorie :