Struts Framework ,Overview Installation and Setup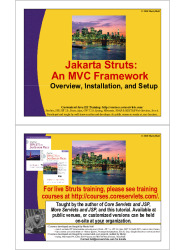 Free training material course for Framework Struts ,this pdf tutorial will shows you an overview of this famous Java Framework ,how to install and use it .
Struts: generic principle of the method: Controller is the heart of the Web application. All client requests pass through it is defined by a generic type ActionServlet Servlet API provided by the Struts Controller takes the information it needs in the struts-config.xml If the client request contains parameters , these are transmitted in a ActionForm type object Depending on the status returned by the previous ActionForm, the controller processes a specific action by an object type Struts Action.
Download this document for more details.
Table of content
Understanding Struts
Different views of Struts
Advantages of Struts
HTML tags
Form field validation
Consistent approach
Disadvantages of Struts
Bigger learning curve
Worse documentation
Less transparent
Rigid approach
Setting Up Struts
Downloading and configuring Struts Downloading and configuring Struts
Testing Struts
Setting up Struts applications
Accessing Struts documentation
Adding Struts to an existing Web application
An MVC Framework?
A Collection of Utilities?
JSP Custom Tag Libraries
Generating HTML forms
Proper way to view Struts?
Bean tags
| | |
| --- | --- |
| Pages : | |
| File type : | pdf |
| Downloads: | 208 |
| Submitted On: | 2016-07-02 |
| License: | |
| Author(s): | |
Take advantage of this course called Struts Framework ,Overview Installation and Setup to improve your Programming skills and better understand Struts.
This course is adapted to your level as well as all Struts pdf courses to better enrich your knowledge.
All you need to do is download the training document, open it and start learning Struts for free.
This tutorial has been prepared for the beginners to help them understand basic Struts Programming. After completing this tutorial you will find yourself at a moderate level of expertise in Struts from where you can take yourself to next levels.
This tutorial is designed for Struts students who are completely unaware of Struts concepts but they have basic understanding on Programming training.
Tutorials in the same categorie :