Interpretable Machine Learning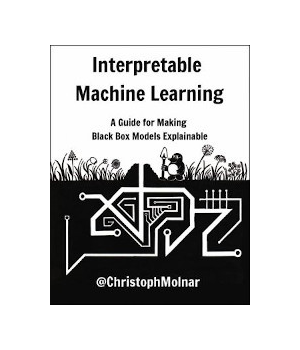 This book is about making machine learning models and their decisions interpretable. After exploring the concepts of interpretability, you will learn about simple, interpretable models such as decision trees, decision rules and linear regression. Later chapters focus on general model-agnostic methods for interpreting black box models like feature importance and accumulated local effects and explaining individual predictions with Shapley values and LIME. All interpretation methods are explained in depth and discussed critically. How do they work under the hood? What are their strengths and weaknesses? How can their outputs be interpreted? This book will enable you to select and correctly apply the interpretation method that is most suitable for your machine learning project.
Download free tutorial in PDF (312 pages) created by Christoph Molnar .
| | |
| --- | --- |
| Pages : | 312 |
| File type : | HTML |
| Downloads: | 3 |
| Submitted On: | 2021-05-15 |
| License: | Free |
| Author(s): | Christoph Molnar |
Take advantage of this course called Interpretable Machine Learning to improve your Others skills and better understand Machine Learning.
This course is adapted to your level as well as all Machine Learning pdf courses to better enrich your knowledge.
All you need to do is download the training document, open it and start learning Machine Learning for free.
This tutorial has been prepared for the beginners to help them understand basic Machine Learning Others. After completing this tutorial you will find yourself at a moderate level of expertise in Machine Learning from where you can take yourself to next levels.
This tutorial is designed for Machine Learning students who are completely unaware of Machine Learning concepts but they have basic understanding on Others training.
Tutorials in the same categorie :