Data Protection for the Hybrid Cloud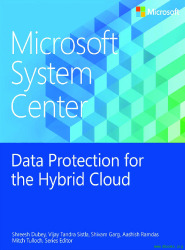 Download free course Data Protection for the Hybrid Cloud, pdf file on 115 pages by Shreesh Dubey, Vijay Tandra Sistla, Shivam Garg, Aashish Ramdas, Mitch Tulloch.
If you are responsible for architecting and designing the backup strategy for your organization, especially if you're looking for ways to incorporate cloud backup into your business continuity scenarios, this book is for you. With the increasing trends in virtualization as well as the move to the pubic cloud, IT organizations are headed toward a world where data and applications run in on-premises private clouds as well as in the public cloud. This has key implications for data protection strategy, and it is important to choose the solution that provides the same level of data protection you have afforded so far while allowing you to harness the power of the public cloud.

We will cover how the Azure Backup service has evolved into a first-class platform-as-a-service (PaaS) service in Microsoft Azure that integrates with the on-premises enterprise class backup product, System Center Data Protection Manager (DPM), to provide a seamless hybrid cloud backup solution. Current backup products treat the cloud as a storage endpoint, which we see as a limited-use case for the public cloud. The approach we describe in this book allows you to exploit the full power of the public cloud and gives you the flexibility to manage your backups in a hybrid world.
Table of contents
Data protection trends and challenges

Overview of hybrid cloud backup

Protecting Microsoft workloads

Protecting Azure IaaS workloads

Protecting Hyper-V virtual machines

VMware private cloud protection

Protecting the Microsoft Cloud Platform System

Optimizing backup storage

Integration with System Center

Integration with Azure Backup

Protecting Azure IaaS virtual machines
| | |
| --- | --- |
| Pages : | 115 |
| File type : | PDF |
| Downloads: | 12 |
| Submitted On: | 2022-02-02 |
| License: | Microsoft Open |
| Author(s): | Shreesh Dubey, Vijay Tandra Sistla, Shivam Garg, Aashish Ramdas, Mitch Tulloch |
Take advantage of this course called Data Protection for the Hybrid Cloud to improve your Others skills and better understand Computer science.
This course is adapted to your level as well as all Computer science pdf courses to better enrich your knowledge.
All you need to do is download the training document, open it and start learning Computer science for free.
This tutorial has been prepared for the beginners to help them understand basic Computer science Others. After completing this tutorial you will find yourself at a moderate level of expertise in Computer science from where you can take yourself to next levels.
This tutorial is designed for Computer science students who are completely unaware of Computer science concepts but they have basic understanding on Others training.
Tutorials in the same categorie :