AutoCAD : Setting Up a Drawing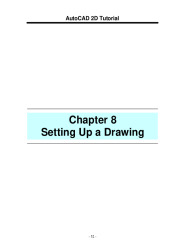 Download pdf tutorials about AutoCAD,this document is aimed at beginner looking to learn the basics of Setting Up an AutoCAD drawing.
AutoCAD 2D Tutorial
Table of contents
List Command
AutoCAD text window
Measuring Distances (choose,click,pick,..)
Calculating Areas
Quick Calc
AutoCAD 2D Tips
ID Command
UNITS Command
Drawing Limits
Plot Scales and Paper Sizes
Scalelistedit Command
Excerpt from course
Be sure to use Object Snaps with the MEASURE command.
To subtract an area, you must first be in 'add' mode to add the first area.
AutoCAD returns the X,Y, and Z coordinates as well as making this the last point entered in the drawing (to move relative from)
Be sure to use Object Snaps with the ID command.
Drawing
Decide Border (Paper) Size
Set Drawing Limit
Determine Dim Scale
Hatch Scale
Ltscale
Text Height
| | |
| --- | --- |
| Pages : | |
| File type : | pdf |
| Downloads: | 2359 |
| Submitted On: | 2016-01-27 |
| License: | |
| Author(s): | |
Take advantage of this course called AutoCAD : Setting Up a Drawing to improve your Others skills and better understand autocad.
This course is adapted to your level as well as all autocad pdf courses to better enrich your knowledge.
All you need to do is download the training document, open it and start learning autocad for free.
This tutorial has been prepared for the beginners to help them understand basic autocad Others. After completing this tutorial you will find yourself at a moderate level of expertise in autocad from where you can take yourself to next levels.
This tutorial is designed for autocad students who are completely unaware of autocad concepts but they have basic understanding on Others training.
Tutorials in the same categorie :