AutoCAD 2010/2011 2D Drawing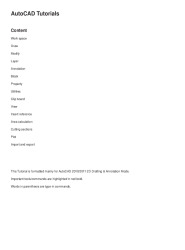 This tutorial is aimed at beginner designers who looks to make the leap into Autocad 2010.
Here you will learn how to get started, how to use the interface, and how to modify project with basic Autocad tools.
Table of contents
Introduction
Autocad classic
Work space
Draw
Commands drafting and other functions
Modify
Layer
Saving Autocad drawing
Set up a new Sheet
Drawing units
General shortcuts
snap and tracking
Annotation
Dimension Style Manager
Dimension text override
Insert reference
Insert image
xreference manager
Modify xreference
Area calculation
Import from GIS to CAD
Select Export to CAD
Cutting sections
Plot
Import and export 
Re-Scaling the drawing
export from CAD to Sketch Up
Use the CAD drawing as a reference
Excerpt from course
'Close all unnecessary layers such as furniture and dimensions. After saving the new file to import into SketchUp you will need to know the CAD drawing units: inches, feet or meter.If the objects in the drawing don't need to have Z value, flatten all by using flatten command incase some objects has wrong Z value. '
| | |
| --- | --- |
| Pages : | |
| File type : | pdf |
| Downloads: | 6140 |
| Submitted On: | 2016-01-26 |
| License: | |
| Author(s): | |
Take advantage of this course called AutoCAD 2010/2011 2D Drawing to improve your Others skills and better understand autocad.
This course is adapted to your level as well as all autocad pdf courses to better enrich your knowledge.
All you need to do is download the training document, open it and start learning autocad for free.
This tutorial has been prepared for the beginners to help them understand basic autocad Others. After completing this tutorial you will find yourself at a moderate level of expertise in autocad from where you can take yourself to next levels.
This tutorial is designed for autocad students who are completely unaware of autocad concepts but they have basic understanding on Others training.
Tutorials in the same categorie :