AutoCAD 2016 : Fundamentals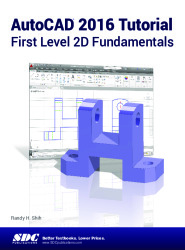 This pdf tutorial you will learn the basics of AutoCad 2016 , you will be effective and efficient in using a CAD system.Free training document under 42 pages for download .
Table of contents
Controlling the Display in Drawings
Creating Basic Drawings
Manipulating Objects
Starting Up AutoCAD 2016
Drawing Units Setup
Drawing Area Setup
Drawing Lines with the LINE Command
Visual Reference
Using the ERASE Command
Repeat the Last Command
The CAD Database and the User Coordinate System
Changing to the 2D UCS Icon Display
Cartesian and Polar Coordinate Systems
Saving the CAD Design
Exit AutoCAD 2016
Exercises
Angle Spacer
Base Plate
T-Clip
Channel Plate
Slider Block
Circular Spacer
Tutorials objectives
Create and Save AutoCAD drawing files
Use the AutoCAD visual reference commands
Using LINE and CIRCLE commands to draw
Using the ERASE command 
Define Positions using the Basic Entry methods
Use the AutoCAD Pan Realtime option
Absolute and Relative Coordinates
The GuidePlate
Saving the CAD Design
Close the Current Drawing
The Spacer Design
Using the Line Command
Using the ERASE Command
Using the Circle Command
Excerpt from course
On your own, move the graphics cursor near the upper-right corner inside the drawing area and note that the drawing area is unchanged. (The Drawing Limits command is used to set the drawing area, but the display will not be adjusted until a display command is used.)
| | |
| --- | --- |
| Pages : | |
| File type : | pdf |
| Downloads: | 10991 |
| Submitted On: | 2016-04-10 |
| License: | |
| Author(s): | |
Take advantage of this course called AutoCAD 2016 : Fundamentals to improve your Others skills and better understand autocad.
This course is adapted to your level as well as all autocad pdf courses to better enrich your knowledge.
All you need to do is download the training document, open it and start learning autocad for free.
This tutorial has been prepared for the beginners to help them understand basic autocad Others. After completing this tutorial you will find yourself at a moderate level of expertise in autocad from where you can take yourself to next levels.
This tutorial is designed for autocad students who are completely unaware of autocad concepts but they have basic understanding on Others training.
Tutorials in the same categorie :