Introduction to SQL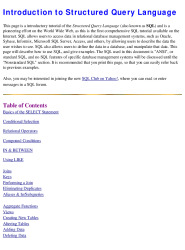 This tutorial is a brief overview about SQL language and free training document courses under 39 pages for beginners.
Table of contents
Introduction
The SELECT Statement
Conditional Selection
Result of Query
Relational Operators
Compound Conditions
Using LIKE and JOINS
Eliminating Duplicates
Aggregate Functions
Creating New Tables
Altering Tables
Adding Data
Deleting Data
Updating Data
Working GROUP BY and HAVING
UNION and Outer Joins
Embedded SQL
Common SQL Questions
Exercises
| | |
| --- | --- |
| File size : | 138.69 Kb |
| Downloads: | 1609 |
| Submitted On: | 2015-11-23 |
Take advantage of this course called Introduction to SQL to improve your Database skills and better understand sql.
This course is adapted to your level as well as all sql pdf courses to better enrich your knowledge.
All you need to do is download the training document, open it and start learning sql for free.
This tutorial has been prepared for the beginners to help them understand basic sql Database. After completing this tutorial you will find yourself at a moderate level of expertise in sql from where you can take yourself to next levels.
This tutorial is designed for sql students who are completely unaware of sql concepts but they have basic understanding on Database training.
Tutorials in the same categorie :