SQL Notes for Professionals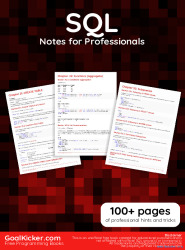 Download free course SQL Notes for Professionals, pdf file on 165 pages by Stack Overflow Community.
The SQL Notes for Professionals book is compiled from Stack Overflow Documentation, the content is written by the beautiful people at Stack Overflow.
Table of contents
Getting started with SQL

Identifier

Data Types

NULL

Example Databases and Tables

SELECT

GROUP BY

ORDER BY

AND & OR Operators

CASE

LIKE operator

IN clause

Filter results using WHERE and HAVING

SKIP TAKE (Pagination)

EXCEPT

EXPLAIN and DESCRIBE

EXISTS CLAUSE

JOIN

UPDATE

CREATE Database

CREATE TABLE

CREATE FUNCTION

TRY/CATCH

UNION / UNION ALL

ALTER TABLE

INSERT

MERGE

cross apply, outer apply

DELETE

TRUNCATE

DROP Table

DROP or DELETE Database

Cascading Delete

GRANT and REVOKE

XML

Primary Keys

Indexes

Row number

SQL Group By vs Distinct

Finding Duplicates on a Column Subset with Detail

String Functions

Functions (Aggregate)

Functions (Scalar/Single Row)

Functions (Analytic)

Window Functions

Common Table Expressions

Views

Materialized Views

Comments

Foreign Keys

Sequence

Subqueries

Execution blocks

Stored Procedures

Triggers

Transactions

Table Design

Synonyms

Information Schema

Order of Execution

Clean Code in SQL

SQL Injection
| | |
| --- | --- |
| Pages : | 165 |
| File type : | PDF |
| Downloads: | 30 |
| Submitted On: | 2022-02-03 |
| License: | CC BY-SA |
| Author(s): | Stack Overflow Community |
Take advantage of this course called SQL Notes for Professionals to improve your Database skills and better understand sql.
This course is adapted to your level as well as all sql pdf courses to better enrich your knowledge.
All you need to do is download the training document, open it and start learning sql for free.
This tutorial has been prepared for the beginners to help them understand basic sql Database. After completing this tutorial you will find yourself at a moderate level of expertise in sql from where you can take yourself to next levels.
This tutorial is designed for sql students who are completely unaware of sql concepts but they have basic understanding on Database training.
Tutorials in the same categorie :