PostgreSQL tutorial for professionals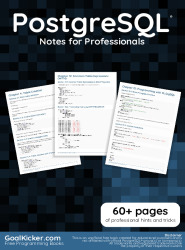 Download free PostgreSQL tutorial course in PDF, training file in 29 chapters and 74 pages. Free unaffiliated ebook created from Stack OverFlow contributor.
Table of contents
About
Getting started with PostgreSQL
Installing PostgreSQL on Windows
Install PostgreSQL from Source on Linux
Installation on GNU+Linux
How to install PostgreSQL via MacPorts on OSX
Install postgresql with brew on Mac
Postgresapp for Mac OSX
Data Types
Numeric Types
Date/ Time Types
Geometric Types
Network Adress Types
Character Types
Arrays
Dates, Timestamps, and Intervals
SELECT the last day of month
Cast a timestamp or interval to a string
Count the number of records per week
Table Creation
Show table de?nition
Create table from select
Create unlogged table
Table creation with Primary Key
Create a table that references other table
SELECT
SELECT using WHERE
Find String Length / Character Length
Example to get length of a character varying ?eld
COALESCE
Single non null argument
Multiple non null arguments
All null arguments
INSERT
Insert data using COPY
Inserting multiple rows
INSERT data and RETURING values
Basic INSERT
Insert from select
UPSERT - INSERT ON CONFLICT DO UPDATE
SELECT data into ?le
UPDATE
Updating a table based on joining another table
Update all rows in a table
Update all rows meeting a condition
Updating multiple columns in table
Data Types
Table Creation
Find String Length / Character Length
INSERT
JSON Support
Common Table Expressions (WITH)
Recursive queries
Inheritance
Triggers and Trigger Functions
Role Management
Comments in PostgreSQL
Backup script for a production DB
Connect to PostgreSQL from Java
EXTENSION dblink and postgres_fdw
It is a free PostgreSQL ebook created for beginners. The content is extracted from Stack Overflow pltaform, which is written by many PostgreSQL developers and contributors.
The content is released under Creative Commons BY-SA
| | |
| --- | --- |
| Paperback : | |
| eBook : | 0.92 MB |
| Downloads: | 146 |
| Submitted On: | 2019-04-30 |
| License: | |
| Author(s): | |
Take advantage of this course called PostgreSQL tutorial for professionals to improve your Database skills and better understand PostgreSQL.
This course is adapted to your level as well as all PostgreSQL pdf courses to better enrich your knowledge.
All you need to do is download the training document, open it and start learning PostgreSQL for free.
This tutorial has been prepared for the beginners to help them understand basic PostgreSQL Database. After completing this tutorial you will find yourself at a moderate level of expertise in PostgreSQL from where you can take yourself to next levels.
This tutorial is designed for PostgreSQL students who are completely unaware of PostgreSQL concepts but they have basic understanding on Database training.
Tutorials in the same categorie :