Microsoft SQL Server 2012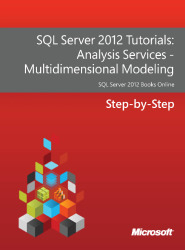 This PDF tutorial will teachs you how to use SQL Server Data Tools to develop and deploy an Analysis Services project with examples.
It's a free training course under 169 pages for download created by Microsoft.
Table of contents
Defining a Data Source View within an Analysis Services Project
Creating an Analysis Services Project
Defining a Data Source View
Modifying Default Table Names
Adding Attributes to Dimensions
Reviewing Cube and Dimension Properties
Deploying an Analysis Services Project
Modifying the Customer Dimension
Modifying the Product Dimension
Modifying the Date Dimension
Defining Advanced Attribute and Dimension Properties
Automatically Grouping Attribute Members
Hiding and Disabling Attribute Hierarchies
Sorting Attribute Members Based on a Secondary Attribute
Specifying Attribute Relationships Between Attributes in a User-Defined Hierarchy
Relationships Between Dimensions and Measure Groups
Referenced Relationship
Fact Relationship
Many-to-Many Relationship
Key Performance Indicators
Drillthrough Action
Defining and Browsing Translations
| | |
| --- | --- |
| Paperback : | |
| eBook : | 1,970.38 Kb |
| Downloads: | 357 |
| Submitted On: | 2015-12-30 |
| License: | |
| Author(s): | |
Take advantage of this course called Microsoft SQL Server 2012 to improve your Database skills and better understand sql.
This course is adapted to your level as well as all sql pdf courses to better enrich your knowledge.
All you need to do is download the training document, open it and start learning sql for free.
This tutorial has been prepared for the beginners to help them understand basic sql Database. After completing this tutorial you will find yourself at a moderate level of expertise in sql from where you can take yourself to next levels.
This tutorial is designed for sql students who are completely unaware of sql concepts but they have basic understanding on Database training.
Tutorials in the same categorie :