How to Install SQL Server 2008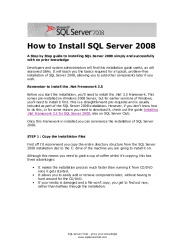 With this tutorial you will learn step by step how to install SQL Server 2008 and how to check the correct configuration of the server.
Download free pdf training course in 32 page intended to beginners.
Table of contents
STEP 1 : Copy the installation files
STEP 2 : Setup.exe
STEP 3 : SQL Server Installation Center
STEP 5 (optional)
STEP 6 : Product key
STEP 7 : Licence Terms
STEP 8 : Setup Support Files
STEP 9 : Setup Support Rules
STEP 10 : Feature Selection
STEP 11 : Instance Configuration
STEP 12 : Disk Space Requirements
STEP 13 : Server Configuration
STEP 14 : Database Engine Configuration – Account Provision
STEP 15 : Database Engine Configuration – Data Directories
STEP 16 : Error Usage Reporting
STEP 16 : Installation Rules
STEP 17 : Ready to Install
Installation Progress
STEP 18 : Installation Complete
Top tips
How to check that SQL Server 2008 has installed correctly
Check 1: Has the SQL Server Service Started?
Check 2: Does Management Studio Work?
Check 3: Can you run a basic query against the new SQL Server
Check 4: Is SQL Server Agent Running?
Check 5: Can SQL Server be seen from the Network?
Check 6: Has the TCP/IP network protocol library been enabled on the server?
| | |
| --- | --- |
| File size : | 1,893.39 Kb |
| Downloads: | 266 |
| Submitted On: | 2018-03-22 |
Take advantage of this course called How to Install SQL Server 2008 to improve your Database skills and better understand SQL Server 2008.
This course is adapted to your level as well as all SQL Server 2008 pdf courses to better enrich your knowledge.
All you need to do is download the training document, open it and start learning SQL Server 2008 for free.
This tutorial has been prepared for the beginners to help them understand basic SQL Server 2008 Database. After completing this tutorial you will find yourself at a moderate level of expertise in SQL Server 2008 from where you can take yourself to next levels.
This tutorial is designed for SQL Server 2008 students who are completely unaware of SQL Server 2008 concepts but they have basic understanding on Database training.
Tutorials in the same categorie :