Learning MySQL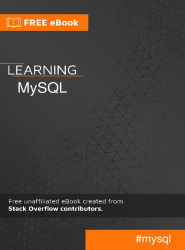 Download free course intituled Learning MySQL, a PDF document created by StackOverflow Documentation, a 300-page tutorial on the basics of this language to learn and manipulate databases created with MySQL.
Table of contents
Get started with MySQL
Examples of information schemas
ALTER TABLE
ALTER COLUMN OF TABLE
ALTER table add INDEX
Change the auto increment value
Renaming a MySQL table
Renaming a column in a MySQL table
LOAD DATA INFILE
import Export
MySQL client
Basic connection
Execute commands
Run the command from a string
Comment Mysql
Add comments
Definitions of comment tables
Configuring the SSL connection
Add keys to MySQL
Test the SSL connection
SSL application
Configuration and adjustment
InnoDB minimum configuration
Securing MySQL Encryption
Connection with UTF-8 using various programming languages.
Basic conversion
Convert all tables in a database
Creation of databases
Create a database, users and grants
Table creation
Base table creation
Set default values
Table creation with primary key
Delete all rows from a table
Delete deletions
TINYINT as an alternative
VARCHAR as an alternative
Add a new option
Error 1055: ONLY_FULL_GROUP_BY: Something is not in the clause
Regular expressions
Read the value of the JSON array
AUTO_INCREMENT key
Server information
INSERT
INSERT SELECT (Insert data from another table)
INSERT with AUTO_INCREMENT + LAST_INSERT_ID ()
Install the Mysql Container with Docker-Compose
What character set and what collection?
Defining character sets on tables and fields
JOINS: Join 3 table with the same id name.
Inner-join for 3 tables
Joined visualization
Insert a simple JSON
Insert mixed data into a JSON field.
Have an INDEX
Limit and Offset Relationship
LIMIT clause with an argument
LIMIT clause with two arguments
MySQL Admin
Select the optimization of the declaration
Optimizing the storage layout for InnoDB tables
Build a composite index
LOWER () / LCASE ()
REPLACE()
SUBSTRING ()
UPPER () / UCASE ()
LENGTH()
CHAR_LENGTH ()
HEX (str)
Date and time operations
GROUP USING THE SUM Function
Group using the MIN function
GROUP USING THE COUNT FUNCTION
GROUP BY using HAVING
Group using Group Concat
GROUP BY with AGGREGATE functions
partitioning
Using backticks
Create a function
Create a procedure with built preparation
Stored Procedure with IN, OUT, INOUT Parameters
| | |
| --- | --- |
| Pages : | |
| File type : | pdf |
| Downloads: | 3253 |
| Submitted On: | 2019-04-21 |
| License: | |
| Author(s): | |
Take advantage of this course called Learning MySQL to improve your Database skills and better understand MySQL.
This course is adapted to your level as well as all MySQL pdf courses to better enrich your knowledge.
All you need to do is download the training document, open it and start learning MySQL for free.
This tutorial has been prepared for the beginners to help them understand basic MySQL Database. After completing this tutorial you will find yourself at a moderate level of expertise in MySQL from where you can take yourself to next levels.
This tutorial is designed for MySQL students who are completely unaware of MySQL concepts but they have basic understanding on Database training.
Tutorials in the same categorie :