Tutorial Oracle Database 11g: SQL Fundamentals in PDF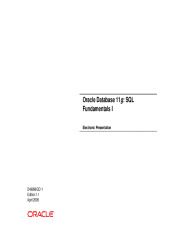 Download tutorial in PDF about Oracle Database 11g: SQL Fundamentals, free training document for beginners.
This document is an overview of Oracle Database 11g and relational database management concepts and terminologies
Introduction to SQL and its development environments
Table of contents
Practice Solutions
Table Descriptions
Oracle Join Syntax
Using SQL*Plus
Using SQL Developer
Additional Practices
Additional Practices Solutions
Relational Database Terminology
Using SQL to Query Your Database
SQL Statements
Development Environments for SQL
Oracle Database 11g Documentation
Retrieving Data Using the SQL SELECT Statement
Capabilities of SQL SELECT Statements
Writing SQL Statements
Arithmetic Expressions
Displaying the Table Structure
Restricting and Sorting Data
Combining Wildcard Characters
Using the VERIFY Command
Arithmetic with Dates
Using Conversion Functions and Conditional Expressions
Obtaining Data from Multiple Tables
Creating Joins with the USING Clause
Manipulating Data
Database Transactions: Start and End
Using DDL Statements to Create and Manage Tables
Using SQL*Plus
SQL and SQL*Plus Interaction
Using SQL Developer
Creating a Database Connection
| | |
| --- | --- |
| Pages : | |
| File type : | pdf |
| Downloads: | 1202 |
| Submitted On: | 2018-03-23 |
| License: | |
| Author(s): | |
Take advantage of this course called Tutorial Oracle Database 11g: SQL Fundamentals in PDF to improve your Database skills and better understand Oracle.
This course is adapted to your level as well as all Oracle pdf courses to better enrich your knowledge.
All you need to do is download the training document, open it and start learning Oracle for free.
This tutorial has been prepared for the beginners to help them understand basic Oracle Database. After completing this tutorial you will find yourself at a moderate level of expertise in Oracle from where you can take yourself to next levels.
This tutorial is designed for Oracle students who are completely unaware of Oracle concepts but they have basic understanding on Database training.
Tutorials in the same categorie :