MongoDB tutorial for professionals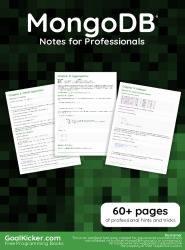 Download free MongoDB tutorial course in PDF, training file in 23 chapters and 73 pages. Free unaffiliated ebook created from Stack OverFlow contributor.
Table of contents
About
Getting started with MongoDB
Execution of a JavaScript ?le in MongoDB
Making the output of ?nd readable in shell
Complementary Terms
Installation
Basic commands on mongo shell
Hello World
CRUD Operation
Create
Update
Delete
Read
Update of embedded documents
More update operators
"multi" Parameter while updating multiple documents
Getting database information
List all collections in database
List all databases
Querying for Data (Getting Started)
Find()
FindOne()
limit, skip, sort and count the results of the ?nd() method
Query Document - Using AND, OR and IN Conditions
?nd() method with Projection
Find() method with Projection
Update Operators
$set operator to update speci?ed ?eld(s) in document(s)
Upserts and Inserts
Insert a document
Collections
Create a Collection
Drop Collection
Aggregation
Count
Sum
Average
Operations with arrays
Aggregate query examples useful for work and learning
Match
Get sample data
Remove docs that have a duplicate ?eld in a collection (dedupe)
Left Outer Join with aggregation ( $Lookup)
Server Aggregation
Aggregation in a Server Method
Java and Spring example
CRUD Operation
Querying for Data (Getting Started)
Upserts and Inserts
Aggregation
Bulk Operations
Pluggable Storage Engines
Python Driver
Replication
MongoDB - Configure a ReplicaSet to support TLS/SSL
MongoDB Authorization Model
Backing up and Restoring Data
It is a free MongoDB ebook created for beginners. The content is extracted from Stack Overflow pltaform, which is written by many MongoDB developers and contributors.
The content is released under Creative Commons BY-SA
| | |
| --- | --- |
| Paperback : | |
| eBook : | 0.91 MB |
| Downloads: | 96 |
| Submitted On: | 2019-04-30 |
| License: | |
| Author(s): | |
Take advantage of this course called MongoDB tutorial for professionals to improve your Database skills and better understand MongoDB.
This course is adapted to your level as well as all MongoDB pdf courses to better enrich your knowledge.
All you need to do is download the training document, open it and start learning MongoDB for free.
This tutorial has been prepared for the beginners to help them understand basic MongoDB Database. After completing this tutorial you will find yourself at a moderate level of expertise in MongoDB from where you can take yourself to next levels.
This tutorial is designed for MongoDB students who are completely unaware of MongoDB concepts but they have basic understanding on Database training.
Tutorials in the same categorie :