Introduction to Programming with Scratch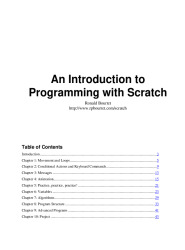 This PDF tutorial will introduce you to programming using Scratch from MIT. Free document training course under 43 pages by Donald Bourret.
The free Scratch software was created to introduce students to the fundamentals of programming. Here are some ways to start in confidence with them.
Table of Contents
Introduction
Create a Scratch Account
Scratch Editor
Movement and Loops
Moving
Turning and Waiting
Conditional Actions and Keyboard Commands
Square (continued)
More Repeat Loops
Forever Loops
Cleanup and Save
If Blocks
Keyboard Commands
Adding More Sprites
Adding Sound
Messages
Sending and Receiving Messages
Message Practice
Animation
Bitmap Mode
Vector Mode
Drawing Costumes
Simple Animation
Moving from the Background to the Foreground
Practice, practice, practice
Variables
Numeric Variables
String Variables
Algorithms
Program Structure
Advanced Programs
Project
Historic of Scratch
Seymour Papert, pioneering researcher and visionary of the Massachusetts Institute of Technology, is one of the creators of the LOGO programming language, which was intended to encourage children to solve problems. He argued that a programming language must have a low threshold and high ceilings, that is, be easily accessible with great potential.
| | |
| --- | --- |
| Pages : | |
| File type : | pdf |
| Downloads: | 2072 |
| Submitted On: | 2018-04-17 |
| License: | |
| Author(s): | |
Take advantage of this course called Introduction to Programming with Scratch to improve your Programming skills and better understand Scratch.
This course is adapted to your level as well as all Scratch pdf courses to better enrich your knowledge.
All you need to do is download the training document, open it and start learning Scratch for free.
This tutorial has been prepared for the beginners to help them understand basic Scratch Programming. After completing this tutorial you will find yourself at a moderate level of expertise in Scratch from where you can take yourself to next levels.
This tutorial is designed for Scratch students who are completely unaware of Scratch concepts but they have basic understanding on Programming training.
Tutorials in the same categorie :