Visual Basic .NET Programming Tutorial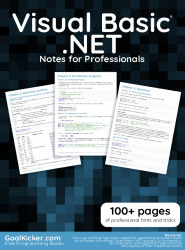 Download free Visual Basic tutorial course in PDF, training file in 51 chapters and 149 pages. Free unaffiliated ebook created from Stack OverFlow contributor.
Table of contents
About
Getting started with Visual Basic NET Language
Hello World
Hello World on a Textbox upon Clicking of a Button
Region
Creating a simple Calculator to get familiar with the interface and code
Declaring variables
Declaring and assigning a variable using a primitive type
Levels of declaration – Local and Member variables
Example of Access Modi?ers
Introduction to Syntax
Intellisense Helper
Declaring a Variable
Comments
Modi?ers
Object Initializers
Collection Initializer
Writing a function
Operators
String Concatenation
Math
Assignment
Comparison
Bitwise
Conditions
If operator
IFThenElse
Short-Circuiting Operators (AndAlso - OrElse)
OrElse Usage
AndAlso Usage
Avoiding NullReferenceException
Date
Converting (Parsing) a String to a Date
Converting a Date To A String
Array
Array de?nition
Null Array Variables
Array initialization
Declare a single-dimension array and set array element values
Jagged Array Initialization
Non-zero lower bounds
Referencing Same Array from Two Variables
Multidimensional Array initialization
Lists
Add items to a List
Check if item exists in a List
Declaring variables
Operators
Short-Circuiting Operators (AndAlso - OrElse)
Array
Enum
Looping
File/Folder Compression
Data Access
ByVal and ByRef keywords
Functions
Random
Generics
NullReferenceException
Option Strict
Option Infer
OOP Keywords
Reflection
LINQ
Working with Windows Forms
GDI+
Using axWindowsMediaPlayer in VB.Net
Reading compressed textfile on-the-fly
Multithreading
Using BackgroundWorker
Debugging your application
It is a free Visual Basic ebook created for beginners. The content is extracted from Stack Overflow pltaform, which is written by many Visual Basic developers and contributors.
The content is released under Creative Commons BY-SA
| | |
| --- | --- |
| Pages : | |
| File type : | pdf |
| Downloads: | 265 |
| Submitted On: | 2019-04-30 |
| License: | |
| Author(s): | |
Take advantage of this course called Visual Basic .NET Programming Tutorial to improve your Programming skills and better understand Visual Basic.
This course is adapted to your level as well as all Visual Basic pdf courses to better enrich your knowledge.
All you need to do is download the training document, open it and start learning Visual Basic for free.
This tutorial has been prepared for the beginners to help them understand basic Visual Basic Programming. After completing this tutorial you will find yourself at a moderate level of expertise in Visual Basic from where you can take yourself to next levels.
This tutorial is designed for Visual Basic students who are completely unaware of Visual Basic concepts but they have basic understanding on Programming training.
Tutorials in the same categorie :