Introduction to JPA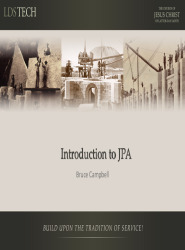 Download free Introduction to JPA for Beginners, course tutorial, a PDF file created by Bruce Campbell.
The use for the persistence of mapping allows us to offer a higher level of abstraction than the simple use of JDBC: This mapping ensures the transformation of objects to the database and also the opposite that whether for readings or updates (creation, modification or deletion).
The Java Persistence API is based on the entities that are simple annotated POJOs and a manager of these entities (EntityManager) that provides functionality to manipulate (add, modify delete, search). The Manager is responsible for managing the state entities and their persistence in the database.
Table of contents
Object Relational Mapping
Introduction to JPA
Entity Manager
Persistence Context
En4ty Relationships
JPA and Spring
Java Stack Config
JPQL
Native Query
Criteria Query
The annotations @Entity (and all the other JPA annotations) can be replaced and / or Overloaded (XML files outweigh the annotations) by recorded information in an XML configuration file.
| | |
| --- | --- |
| Pages : | |
| File type : | pdf |
| Downloads: | 84 |
| Submitted On: | 2016-06-26 |
| License: | |
| Author(s): | |
Take advantage of this course called Introduction to JPA to improve your Programming skills and better understand JPA.
This course is adapted to your level as well as all JPA pdf courses to better enrich your knowledge.
All you need to do is download the training document, open it and start learning JPA for free.
This tutorial has been prepared for the beginners to help them understand basic JPA Programming. After completing this tutorial you will find yourself at a moderate level of expertise in JPA from where you can take yourself to next levels.
This tutorial is designed for JPA students who are completely unaware of JPA concepts but they have basic understanding on Programming training.
Tutorials in the same categorie :