Learning Ruby on Rails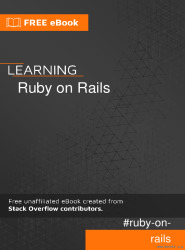 Download free course Learning Ruby on Rails, pdf file on 291 pages by Stack Overflow Community.
Ruby on Rails (RoR), or Rails, is an open-source popular web application framework. Rails uses Ruby, HTML, CSS, and JavaScript to create a web application that runs on a web server. Rails uses the model-view-controller (MVC) pattern and provides a fullstack of libraries from the database all the way to the view.

It is an unofficial and free Ruby on Rails book created for educational purposes. All the content is extracted from Stack Overflow Documentation, which is written by many hardworking individuals at Stack Overflow.
Table of contents
Getting started with Ruby on Rails

ActionCable

ActionController

ActionMailer

Active Jobs

Active Model Serializers

ActiveJob

ActiveModel

ActiveRecord

ActiveRecord Associations

ActiveRecord Locking

ActiveRecord Migrations

ActiveRecord Query Interface

ActiveRecord Transactions

ActiveRecord Transactions

ActiveRecord Validations

ActiveSupport

Add Admin Panel

Adding an Amazon RDS to your rails application

Asset Pipeline

Authenticate Api using Devise

Authorization with CanCan

Caching

Change a default Rails application enviornment

Change default timezone

Class Organization

Configuration

Configuration

Configure Angular with Rails

Debugging

Decorator pattern

Deploying a Rails app on Heroku

Elasticsearch

Factory Girl

File Uploads

Form Helpers

Friendly ID

Gems

I18n - Internationalization

Import whole CSV files from specific folder

Integrating React.js with Rails Using Hyperloop

Model states: AASM

Mongoid

Multipurpose ActiveRecord columns

Naming Conventions

Nested form in Ruby on Rails

Payment feature in rails

Prawn PDF

Rails 5

Rails 5 API Authetication

Rails API

Rails Best Practices

Rails Cookbook - Advanced rails recipes/learnings and coding techniques

Rails Engine - Modular Rails

Rails -Engines

Rails frameworks over the years

Rails generate commands

Rails logger

Rails on docker

React with Rails using react-rails gem

Reserved Words

Routing

RSpec and Ruby on Rails

Safe Constantize

Securely storing authentication keys

Shallow Routing

Single Table Inheritance

Testing Rails Applications

Tools for Ruby on Rails code optimization and cleanup

Turbolinks

Upgrading Rails

User Authentication in Rails

Using GoogleMaps with Rails

Views
| | |
| --- | --- |
| Pages : | 291 |
| File type : | PDF |
| Downloads: | 24 |
| Submitted On: | 2022-02-03 |
| License: | CC BY-SA |
| Author(s): | Stack Overflow Community |
Take advantage of this course called Learning Ruby on Rails to improve your Programming skills and better understand ruby.
This course is adapted to your level as well as all ruby pdf courses to better enrich your knowledge.
All you need to do is download the training document, open it and start learning ruby for free.
This tutorial has been prepared for the beginners to help them understand basic ruby Programming. After completing this tutorial you will find yourself at a moderate level of expertise in ruby from where you can take yourself to next levels.
This tutorial is designed for ruby students who are completely unaware of ruby concepts but they have basic understanding on Programming training.
Tutorials in the same categorie :