Fundamentals of C++ Programming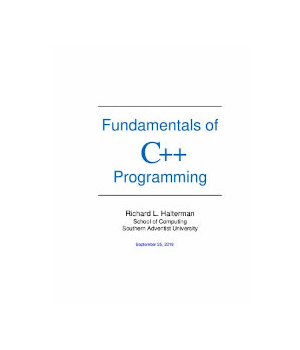 This book does not attempt to cover all the facets of the C++ programming language. Experienced programmers should look elsewhere for books that cover C++ in much more detail. The focus here is on introducing programming techniques and developing good habits.
To that end, our approach avoids some of the more esoteric features of C++ and concentrates on the programming basics that transfer directly to other imperative programming languages such as Java, C#, and Python. We stick with the basics and explore more advanced features of C++ only when necessary to handle the problem at hand.
Download free tutorial in PDF (766 pages) created by Richard L. Halterman School of Computing.
Contents
The Context of Software Development
Software
Development Tools
Learning Programming with C++
Summary
Exercises
Writing a C++ Program
General Structure of a Simple C++ Program
Compiling the source code
Variations of our simple program
Template for simple C++ programs
Summary
Exercises
Values and Variables
Integer Values
Variables and Assignment
Identifiers
Floating-point Types
Constants
Other Numeric Types
Characters
Enumerated Types
Type Inference with auto
Exercises
Expressions and Arithmetic
Expressions
Mixed Type Expressions
Operator Precedence and Associativity
Comments
Formatting
Errors and Warnings
Compile-time Errors
Run-time Errors
Logic Errors
Compiler Warnings
Arithmetic Examples
More Arithmetic Operators
Algorithms
Summary
Exercises
Conditional Execution
Type bool
Boolean Expressions
The Simple if Statement
Compound Statements
The if/else Statement
Compound Boolean Expressions
Nested Conditionals
Multi-way if/else Statements
Errors in Conditional Statements
Summary
Exercises
Iteration
The while Statement
Nested Loops
Abnormal Loop Termination
The break statement
The goto Statement
The continue Statement
Infinite Loops
Iteration Examples
Drawing a Tree
Printing Prime Numbers
Summary
Exercises
Other Conditional and Iterative Statements
The switch Statement
The Conditional Operator
The do/while Statement
The for Statement
Summary
Exercises
Using Functions
Introduction to Using Functions
Standard Math Functions
Maximum and Minimum
clock Function
Character Functions
Random Numbers
Summary
Exercises
Writing Functions
Function Basics
Using Functions
Call by Value
Function Examples
Better Organized Prime Generator
| | |
| --- | --- |
| Pages : | 766 |
| File type : | HTML |
| Downloads: | 13 |
| Submitted On: | 2021-05-15 |
| License: | Free |
| Author(s): | |
Take advantage of this course called Fundamentals of C++ Programming to improve your Programming skills and better understand C++ Programming.
This course is adapted to your level as well as all C++ Programming pdf courses to better enrich your knowledge.
All you need to do is download the training document, open it and start learning C++ Programming for free.
This tutorial has been prepared for the beginners to help them understand basic C++ Programming Programming. After completing this tutorial you will find yourself at a moderate level of expertise in C++ Programming from where you can take yourself to next levels.
This tutorial is designed for C++ Programming students who are completely unaware of C++ Programming concepts but they have basic understanding on Programming training.
Tutorials in the same categorie :