iOS App Reverse Engineering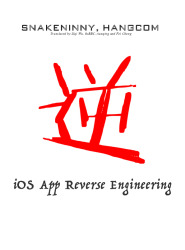 This book is the world's first book of very detailed iOS App reverse engineering skills, targeting 4 kinds of readers:
The book consists of 4 parts, i.e. concepts, tools, theories and practices. The book follows an "abstraction, concrete, abstraction, concrete" structure, starting from basic concepts like iOS filesystem hierarchy and iOS file types that Apple didn't expose to App developers but iOS (jailbreak) researchers should know, then goes through the most commonly used tools like class-dump, Theos, Cycript, Reveal, IDA and LLDB to introduce what to do in iOS reverse engineering. After that, iOS reverse engineering theories based on Objective-C and ARM assembly are explained in a methodological way, pointing out the core of this book. Last but not least, 4 originally elaborated practices are there to cover all previous contents of the book and give you the most intuitive perception of iOS reverse engineering. Happy hacking!
| | |
| --- | --- |
| Pages : | /Paperback: N/A |
| File type : | pdf |
| Downloads: | 81 |
| Submitted On: | 2020-08-29 |
| License: | MIT License |
| Author(s): | Snakeninny, Zishe Sha, Dustin L. Howett (Praface) |
Take advantage of this course called iOS App Reverse Engineering to improve your Others skills and better understand iOS.
This course is adapted to your level as well as all iOS pdf courses to better enrich your knowledge.
All you need to do is download the training document, open it and start learning iOS for free.
This tutorial has been prepared for the beginners to help them understand basic iOS Others. After completing this tutorial you will find yourself at a moderate level of expertise in iOS from where you can take yourself to next levels.
This tutorial is designed for iOS students who are completely unaware of iOS concepts but they have basic understanding on Others training.
Tutorials in the same categorie :