Introduction to Computers and Programming
This book introduces you to the fundamental concepts of computer programming using the Python language. Before we begin exploring those concepts, you need to understand a few basic things about computers and how they work.
Table of contents
Introduction
Hardware and Software
The CPU
Main Memory
Secondary Storage Devices
Input Devices
Output Devices
Software
System Software
Application Software
How Computers Store Data
How a Program Works
Using Python
| | |
| --- | --- |
| File size : | 3957.018 Kb |
| Downloads: | 78 |
| Submitted On: | 2019-08-26 |
Take advantage of this course called Introduction to Computers and Programming to improve your Others skills and better understand Computers science and Programming.
This course is adapted to your level as well as all Computers science and Programming pdf courses to better enrich your knowledge.
All you need to do is download the training document, open it and start learning Computers science and Programming for free.
This tutorial has been prepared for the beginners to help them understand basic Computers science and Programming Others. After completing this tutorial you will find yourself at a moderate level of expertise in Computers science and Programming from where you can take yourself to next levels.
This tutorial is designed for Computers science and Programming students who are completely unaware of Computers science and Programming concepts but they have basic understanding on Others training.
Tutorials in the same categorie :
This course intituled Introduction to Layers and Layer Dialog Box is an easy pdf tutorial about AutoCAD designated to beginners.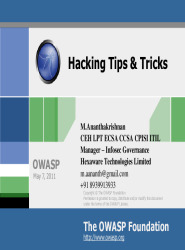 Hacking tips and tricks is a free pdf tutorial intended to beginners to know the basics of computer attacks and protect themselves from hackers and cy
Learn how to create,edit and correct images with Photoshop, download free tutorial in pdf under 26 pages for beginners.