Creating a logo using CorelDraw
Looking to enhance your logo design skills with CorelDRAW? This PDF tutorial is the perfect guide for you! With step-by-step instructions.
About this tutorial
This tutorial will teach you how to create a logo for an imaginary coffee shop using CorelDRAW. This PDF ebook provides all the essential guidance you need to get started with designing your own logos. It's an ideal resource for anyone interested in learning logo design or looking to expand their existing skills. The tutorial is available for download in PDF format, making it accessible on any device. With CorelDRAW, you can select the right colors, fonts, and shapes to create a stunning logo that will grab attention and represent your brand in the best way possible. Download this CorelDRAW tutorial today and start designing your own professional logos!
What'a a CorelDRAW is?
CorelDRAW is a powerful graphic design software that enables designers, artists, and business professionals to create stunning visual content. Developed by Corel Corporation, this intuitive software provides users with a range of tools and features for designing logos, illustrations, page layouts, web graphics, and more. With its user-friendly interface and comprehensive suite of tools, CorelDRAW is a popular choice for designers of all levels. Whether you are creating marketing materials for your business or designing a website, CorelDRAW provides you with the flexibility and control to bring your ideas to life. So, if you are looking to create high-quality graphics and designs, consider learning more about CorelDRAW and its vast capabilities.
Table of contents
Creating the background
Adding color
Creating the diamond shape
Adding the coffee cup and drop shadow
Adding the banner
Adding text to the logo
Saving your work
What you will learn
In this comprehensive tutorial, you will gain valuable knowledge on various techniques and tools available in CorelDRAW. Whether you are new to graphic design or looking to expand your existing skillset, this tutorial will guide you through the step-by-step process of designing eye-catching graphics. You will learn how to :
Draw shapes

Add color

Duplicate, rotate, and mirror objects

Import images from other files, and fit text to a path.
Additionally, you will discover the power of Smart drawing tool, Ellipse tool, Rectangle tool, Interactive drop shadow tool, 3 point curve tool, and Text tool. With these tools and techniques at your fingertips, you will be able to create stunning designs that will captivate your audience. So, what are you waiting for? Let's get started on this CorelDRAW tutorial and unlock your creativity!
| | |
| --- | --- |
| Size : | 272.279 Kb |
| File type : | pdf |
| Downloads: | 36 |
| Created: | 2023-05-05 |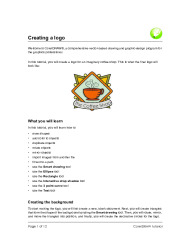 Others CorelDRAW Tutorials
Others related eBooks about Creating a logo using CorelDraw
97 Things Every Project Manager Should Know: Collective Wisdom from the Experts
If the projects you manage don't go as smoothly as you'd like, 97 Things Every Project Manager Should Know offers knowledge that's priceless, gained through years of trial and error. This illuminating book contains 97 short and extremely practical tips - whether you're dealing with software or non...
A Case Study in Community-Driven Software Adoption
Download free course A Case Study in Community-Driven Software Adoption, pdf file on 39 pages by O'Reilly Media....
Autocad : Layers and Layer Dialog Box
This course intituled Introduction to Layers and Layer Dialog Box is an easy pdf tutorial about AutoCAD designated to beginners....
Assembly Programming
This courses provides a brief overview about Assembly programming ,a training file in PDF under 16 pages for download....
Essential Dart
Dart is a class-based, object-oriented language that simplifies the development of structured modern apps, scales from small scripts to large applications, and can be compiled to JavaScript for use in any modern browser. In this rigorous but readable introductory text, Dart specification lead Gilad ...
Pro TBB
Download free course Pro TBB, pdf file on 754 pages by Michael Voss, Rafael  Asenjo, James Reinders....
GNU GREP and RIPGREP
The book heavily leans on examples to present features of grep as well as regular expressi..., download free GNU GREP tutorial in PDF (111 pages) created by ....
Internet of Things (IoT) in 5 Days: an easy guide to Wireless Sensor Networks (WSN), IPv6, and IoT
This booklet is a quick but thoughtful guide to jump into the Internet of Things (IoT), covering important subjects as IPv6 networking, sensors, wireless protocols and technologies, as well as IoT cloud platforms and its most commonly used protocols, featuring lots of hands-on examples to start work...
30 Arduino projects guide
Download a complet Arduino tutorial in PDF ,with this training document you will learn the basics of Arduino and how to connect all manner of electronics to your computer to create projects....
Mathematics for Computer Science
This book covers elementary discrete mathematics for computer science and engineering. It emphasizes mathematical definitions and proofs as well as applicable methods. It explores the topics of basic combinatorics, number and graph theory, logic and proof techniques, and many more....