Linux Appliance Design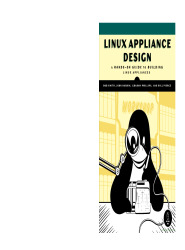 Download free course Linux Appliance Design, pdf file on 388 pages by Bob Smith, John Hardin, Graham Phillips, Bill Pierce.
Modern appliances are complex machines with processors, operating systems, and application software. While there are books that will tell you how to run Linux on embedded hardware, and books on how to build a Linux application, Linux Appliance Design is the first book to demonstrate how to merge the two and create a Linux appliance. You'll see for yourself why Linux is the embedded operating system of choice for low-cost development and a fast time to market.

Linux Appliance Design shows how to build better appliances - appliances with more types of interfaces, more dynamic interfaces, and better debugged interfaces.

You'll learn how to build backend daemons, handle asynchronous events, and connect various user interfaces (including web, framebuffers, infrared control, SNMP, and front panels) to these processes for remote configuration and control. Linux Appliance Design also introduces the Run-Time Access library, which provides a uniform mechanism for user interfaces to communicate with daemons.

Learn to:
- Separate your user interfaces from your daemons
- Give user interfaces run time access to configuration, status, and statistics
- Add professional network management capabilities to your application
- Use SNMP and build a MIB
- Build a web-based appliance interface
- Build a command line interface (CLI)
- Build a framebuffer interface with an infrared control as input
- Manage logs and alarms on an appliance
Table of contents
Appliance Architecture

Managing Daemons

Using Run-Time Access

Building and Securing Daemons

The Laddie Alarm System: A Sample Appliance

Logging

Laddie Event Handling

Designing a Web Interface

Designing a Command Line Interface

Designing a Front Panel Interface

Designing a Framebuffer Interface

Infared Remote Control

Hands-On Introduction to SNMP

Designing Your SNMP MIB

Implementing Your SNMP MIB
| | |
| --- | --- |
| Pages : | 388 |
| File type : | PDF |
| Downloads: | 18 |
| Submitted On: | 2022-02-03 |
| License: | CC BY |
| Author(s): | Bob Smith, John Hardin, Graham Phillips, Bill Pierce |
Take advantage of this course called Linux Appliance Design to improve your Operating system skills and better understand linux.
This course is adapted to your level as well as all linux pdf courses to better enrich your knowledge.
All you need to do is download the training document, open it and start learning linux for free.
This tutorial has been prepared for the beginners to help them understand basic linux Operating system. After completing this tutorial you will find yourself at a moderate level of expertise in linux from where you can take yourself to next levels.
This tutorial is designed for linux students who are completely unaware of linux concepts but they have basic understanding on Operating system training.
Tutorials in the same categorie :