WLAN network basics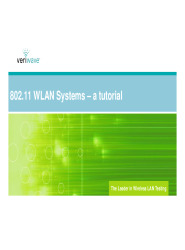 Download free WLAN network basics Systems (example:802.11 WLAN Systems) course material, tutorial training, a PDF file under 53 pages by veriwave.
A WLAN uses radio waves to transmit data and connect devices to the Internet, your network and your applications.
A wired network connects devices and transmits data by kinds of cables. In the past, wired networks were sometimes considered to be faster than wireless networks. The difference between the two types of network, however, is now reduced.
The WLAN noted for Wireless Local Area Network is a network covering the equivalent of a local area network or a range of about a hundred meters. It connects between them-the terminals present in the coverage area.
 Table of contents
Infrastructure Mode
Repeater Mode
Channel scanning and synchronization
Authentication and association
Open Authentication
Shared Key Authentication
Data transfert mechanism
Protocol architecture
MAC Layer
PHY Layer
Radio channels and frequencies
Modulation technologies
PHY data rates used
Physical Layer Technologies
802.11 MAC protocol
Security protocols in WLANs Security protocols in WLANs
Scanning
Synchronization
Advanced topics in WLANs
Wireless LAN standards
Antenna Diversity and Polarization
WLAN testing challenges and test metrics
Conclusion
| | |
| --- | --- |
| Pages : | |
| File type : | pdf |
| Downloads: | 1819 |
| Submitted On: | 2016-06-12 |
| License: | |
| Author(s): | |
Take advantage of this course called WLAN network basics to improve your Networking skills and better understand wlan.
This course is adapted to your level as well as all wlan pdf courses to better enrich your knowledge.
All you need to do is download the training document, open it and start learning wlan for free.
This tutorial has been prepared for the beginners to help them understand basic wlan Networking. After completing this tutorial you will find yourself at a moderate level of expertise in wlan from where you can take yourself to next levels.
This tutorial is designed for wlan students who are completely unaware of wlan concepts but they have basic understanding on Networking training.
Tutorials in the same categorie :