Introduction to CSS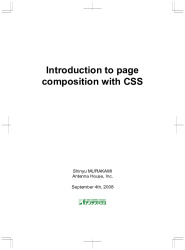 Description :
This document explain the CSS page composition with example code ,training courses in PDF under 27 pages designated to beginners.
Table of contents
Size setting: size property
Margin boxes
Left/Right/First page setting
Running header and page number
Running header setting?stringt-set property and string() function
Page number: counter(page)
Counter
Numbering chapter and section
Cross reference
Creation of table of contents
Cross reference and table of contents
Control of page breaks
Page break: page-break-before, page-break-after
Page break prohibition
Rounded borders
Shadowed boxes
Hyphenation
Setup of vertical writing mode: writing-mode: tb-rl
| | |
| --- | --- |
| File Size : | 398.89 Kb |
| Downloads : | 534 |
| Submitted On: | 2015-11-20 |
Take advantage of this course called Introduction to CSS to improve your Web development skills and better understand css.
This course is adapted to your level as well as all css pdf courses to better enrich your knowledge.
All you need to do is download the training document, open it and start learning css for free.
This tutorial has been prepared for the beginners to help them understand basic css Web development. After completing this tutorial you will find yourself at a moderate level of expertise in css from where you can take yourself to next levels.
This tutorial is designed for css students who are completely unaware of css concepts but they have basic understanding on Web development training.
With this tutorial you will learn how to build a Well formed XML document and a corresponding DTD file,a PDF training document under 14 pages by Jacob Cleary.
---
Download free course to learn how to build e-commerce store with Prestashop, PDF ebook under 71 pages.
---
Download free NodeJs tutorial course material and training in PDF file under 23 pages intended to beginners.
---
CSS Notes,free pdf tutorial about Cascading Style Sheet, complete training document in 16 pages designated to beginners.
---
With this tutorial you will learn the secrets of HTML5 and responsive websites capable of interfacing with mobile devices as tablet or smartphone ,free PDF courses by Benjamin LaGrone .
---
Download complet course on CSS style sheets, PDF document on 327 pages for beginners. Training document created by StackOverFlow to get started with CSS.
---
You are here:  

Home

/

Introduction to CSS