HTML5 and responsive Web design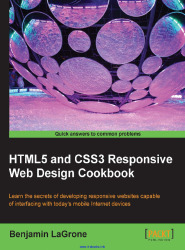 Description :
With this tutorial you will learn the secrets of HTML5 and responsive websites capable of interfacing with mobile devices as tablet or smartphone ,free PDF courses by Benjamin LaGrone .
Table of contents
Responsive Elements and Media
Resizing an image using media queries
Responsive Typography
Making a text shadow with canvas
Making an inner and outer shadow with canvas
Rotating your text with canvas
Responsive Layout
Creating a responsive width layout with media queries
Changing image sizes with media queries
Hiding an element with media queries
Using Responsive Frameworks
Making Mobile-first Web Applications
Adding a second page in jQuery Mobile
Making a list element in jQuery Mobile
Adding a mobile, native-looking button with jQuery Mobile
| | |
| --- | --- |
| File Size : | 6,295.75 Kb |
| Downloads : | 1160 |
| Submitted On: | 2015-11-20 |
Take advantage of this course called HTML5 and responsive Web design to improve your Web development skills and better understand html,css.
This course is adapted to your level as well as all html,css pdf courses to better enrich your knowledge.
All you need to do is download the training document, open it and start learning html,css for free.
This tutorial has been prepared for the beginners to help them understand basic html,css Web development. After completing this tutorial you will find yourself at a moderate level of expertise in html,css from where you can take yourself to next levels.
This tutorial is designed for html,css students who are completely unaware of html,css concepts but they have basic understanding on Web development training.
Download free HTML5 tutorial course in PDF, training file in 18 chapters and 180 pages. Free unaffiliated ebook created from Stack OverFlow contributor.
---
With this PDF tutorial you will learn the basics of PHP ,understand the working model of PHP to begin coding your own projects and scripts.Free courses under 95 pages designated to beginners.
---
With this tutorial you will learn how to build your own dynamic web site with PHP , a free training document under 21 pages for downloading.
---
This tutorial contain a brief overview about HTML5 and CSS3 , a free training document in PDF under 45 pages by Jason Clark.
---
You are here:  

Home

/

HTML5 and responsive Web design