Document Object Model Tutorial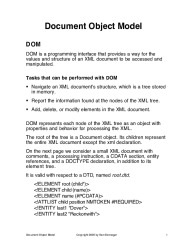 In practice, DOM allows to load an entire XML document into memory and opposes this point to SAX (which makes it possible to process an XML document in one pass, without memory usage). At a minimum, DOM uses a memory area of the read XML file; In practice, it is often more and more so to prepare to respond effectively to complex questions.
Table of contents
DOM
Tasks that can be performed with DOM
Example: root.xml
The Node Hierarchy
Interface Names and Their Constants
Methods for Inspecting DOM a Tree
String getTagName()
NamedNodeMap getAttributes()
String getAttribute(String name)
Attr getAttributeNode(String name)
NodeList getElementsByTagName(String name)
boolean hasAttributes()
boolean hasAttribute(String name)
Methods in NodeList
Displaying a DOM Tree
The Program: DomParse.java
Entity References
New parse Method (incorporating getEntries)
An Introduction to XPath
Location Definitions
Displaying XPath Expressions
XPath in Java
Problems with Using Text Output to Build XML
Methods for Creating a DOM Tree
Formatted Output
| | |
| --- | --- |
| Pages : | |
| File type : | pdf |
| Downloads: | 248 |
| Submitted On: | 2017-08-05 |
| License: | |
| Author(s): | |
Take advantage of this course called Document Object Model Tutorial to improve your Web development skills and better understand DOM.
This course is adapted to your level as well as all DOM pdf courses to better enrich your knowledge.
All you need to do is download the training document, open it and start learning DOM for free.
This tutorial has been prepared for the beginners to help them understand basic DOM Web development. After completing this tutorial you will find yourself at a moderate level of expertise in DOM from where you can take yourself to next levels.
This tutorial is designed for DOM students who are completely unaware of DOM concepts but they have basic understanding on Web development training.
Tutorials in the same categorie :