VB.NET Quick Guide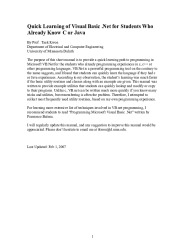 The purpose of this PDF tutorial is to provide a quick learning guide to programming for the students who wants to buils their own application with Microsoft VB.Net .
Table of contents
Basics
Array constant, and String Declaration
Manipulation Date and Time
The operators
Math functions
Arithmetic functions
Arrays, collections and structure
Array operations
ArrayList
Searching a value from array
Conditional and loop statement
Select Case Statement
For/Do loops
Files ,directories and stream
Reading and Writing from Strings
Loading and Saving Images
Regular expression
| | |
| --- | --- |
| Pages : | |
| File type : | pdf |
| Downloads: | 225 |
| Submitted On: | 2015-12-29 |
| License: | |
| Author(s): | |
Take advantage of this course called VB.NET Quick Guide to improve your Programming skills and better understand vb.net.
This course is adapted to your level as well as all vb.net pdf courses to better enrich your knowledge.
All you need to do is download the training document, open it and start learning vb.net for free.
This tutorial has been prepared for the beginners to help them understand basic vb.net Programming. After completing this tutorial you will find yourself at a moderate level of expertise in vb.net from where you can take yourself to next levels.
This tutorial is designed for vb.net students who are completely unaware of vb.net concepts but they have basic understanding on Programming training.
Tutorials in the same categorie :