From Python to NumPy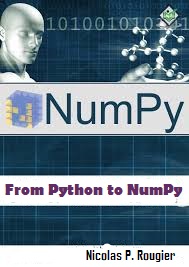 NumPy is one of the most important scientific computing libraries available for Python. This book teaches you how to achieve expert level competency to perform complex operations, with in-depth coverage of advanced concepts.
Beginning with NumPy's arrays and functions, you will familiarize yourself with linear algebra concepts to perform vector and matrix math operations. You will thoroughly understand and practice data processing, exploratory data analysis (EDA), and predictive modeling. You will then move on to working on practical examples which will teach you how to use NumPy statistics in order to explore US housing data and develop a predictive model using simple and multiple linear regression techniques.
| | |
| --- | --- |
| Pages : | /Paperback N/A |
| File type : | pdf |
| Downloads: | 47 |
| Submitted On: | 2020-08-29 |
| License: | CC BY-NC-SA 4.0 |
| Author(s): | Nicolas P. Rougier |
Take advantage of this course called From Python to NumPy to improve your Programming skills and better understand Python.
This course is adapted to your level as well as all Python pdf courses to better enrich your knowledge.
All you need to do is download the training document, open it and start learning Python for free.
This tutorial has been prepared for the beginners to help them understand basic Python Programming. After completing this tutorial you will find yourself at a moderate level of expertise in Python from where you can take yourself to next levels.
This tutorial is designed for Python students who are completely unaware of Python concepts but they have basic understanding on Programming training.
Tutorials in the same categorie :