Objective-C tutorial for professionals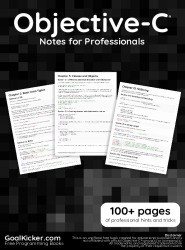 Download free Objective-C tutorial course in PDF, training file in 51 chapters and 129 pages. Free unaffiliated ebook created from Stack OverFlow contributor.
Table of contents
About
Getting started with Objective-C Language
Hello World
Basic Data Types
SEL
BOOL
id
IMP (implementation pointer)
NSInteger and NSUInteger
Enums
typedef enum declaration in Objective-C
Converting C++ std::vector to an Objective-C Array
De?ning an enum
Structs
De?ning a Structure and Accessing Structure Members
CGPoint
Classes and Objects
Di?erence between allocation and initialization
Creating classes with initialization values
Specifying Generics
Singleton Class
The "instancetype" return type
Inheritance
Car is inherited from Vehicle
Methods
Class methods
Pass by value parameter passing
Pass by reference parameter passing
Method parameters
Create a basic method
Return values
Calling methods
Instance methods
Properties
Custom getters and setters
Properties that cause updates
What are properties?
Random Integer
Basic Random Integer
Random Integer within a Range
BOOL / bool / Boolean / NSCFBoolean
BOOL/Boolean/bool/NSCFBoolean
BOOL VS Boolean
Continue and Break!
Continue and Break Statement
Basic Data Types
Structs
Inheritance
Properties
BOOL / bool / Boolean / NSCFBoolean
Key Value Coding / Key Value Observing
NSArray
NSDictionary
NSDate
NSUrl send a post request
NSPredicate
NSJSONSerialization
NSAttributedString
NSObject
NSTextAttachment
NSUserDefaults
Low-level Runtime Environment
Categories
Protocols and Delegates
XML parsing
Predefined Macros
Format-Specifiers
Error Handling
Singletons
Unit testing using Xcode
It is a free Objective-C ebook created for beginners. The content is extracted from Stack Overflow pltaform, which is written by many Objective-C developers and contributors.
The content is released under Creative Commons BY-SA
| | |
| --- | --- |
| Pages : | |
| File type : | pdf |
| Downloads: | 98 |
| Submitted On: | 2019-04-30 |
| License: | |
| Author(s): | |
Take advantage of this course called Objective-C tutorial for professionals to improve your Programming skills and better understand Objective-C.
This course is adapted to your level as well as all Objective-C pdf courses to better enrich your knowledge.
All you need to do is download the training document, open it and start learning Objective-C for free.
This tutorial has been prepared for the beginners to help them understand basic Objective-C Programming. After completing this tutorial you will find yourself at a moderate level of expertise in Objective-C from where you can take yourself to next levels.
This tutorial is designed for Objective-C students who are completely unaware of Objective-C concepts but they have basic understanding on Programming training.
Tutorials in the same categorie :