Home
»
Programming
»
Tutorial: Creating a Database Application using Delphi
Tutorial: Creating a Database Application using Delphi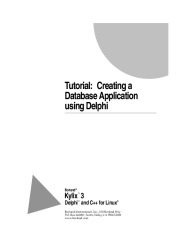 This tutorial guides you through the creation of an InterBase database application with which you can view and update a sample employee database. You will use the Delphi IDE to create the database application.
Table of contents
Creating a database application using the Delphi IDE
Overview of database architecture
Creating a new project
Setting up data access components
Setting up the database connection
Setting up the unidirectional dataset
Setting up the provider, client dataset,and data source
Designing the user interface
Creating the grid and navigation bar
Adding support for a menu
Adding a menu
Adding a button
Displaying a title and an image
Writing an event handler
Writing the Update Now! command event handler
Writing the Exit command event handler
Writing the FormClose event handler
Programming elements with Delphi
Project concept
Delphi allows you to create one application at a time, open as a project A project is the uncompiled state of an application A Windows application consists of windows. The Delphi project that generates the application contains these windows: the cards Each card has a single unit (Pascal code that describes the contents of the card (buttons, menus, check boxes, ...) and its operation. (what happens when you click a button) and many other things): it is possible to use units that are not associated with any form
Project files
A Delphi project consists of a project file, units, and forms. The project file has the extension .DPR
Each form is stored in a file with the extension .DFM
Each unit is also stored in a file with the extension .PAS
The form and its associated unit have the same file name (Delphi only asks for this name once and uses it for the unit and for the form): if the form is stored in a Somme.DFM file, its associated unit will be stored in the Somme.PAS file
Compilation of a project
During compilation, each form (.DFM file) with its unit (.PAS file) will be transformed into a single file (.DCU)
All .DCU files will be transformed into a single .EXE executable file that represents the generated Delphi application. : The .EXE file has the same name as the .DE project file
| | |
| --- | --- |
| Pages : | |
| File type : | pdf |
| Downloads: | 330 |
| Submitted On: | 2018-05-24 |
| License: | |
| Author(s): | |
Take advantage of this course called Tutorial: Creating a Database Application using Delphi to improve your Programming skills and better understand Delphi.
This course is adapted to your level as well as all Delphi pdf courses to better enrich your knowledge.
All you need to do is download the training document, open it and start learning Delphi for free.
This tutorial has been prepared for the beginners to help them understand basic Delphi Programming. After completing this tutorial you will find yourself at a moderate level of expertise in Delphi from where you can take yourself to next levels.
This tutorial is designed for Delphi students who are completely unaware of Delphi concepts but they have basic understanding on Programming training.
Tutorials in the same categorie :