Advances in Satellite Communications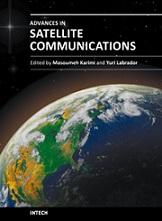 Satellite communication systems are now a major part of most telecommunications networks as well as our everyday lives through mobile personal communication systems and broadcast television. A sound understanding of such systems is therefore important for a wide range of system designers, engineers and users.
This book provides a comprehensive review of some applications that have driven this growth. It analyzes various aspects of Satellite Communications from Antenna design, Real Time applications, Quality of Service (QoS), Atmospheric effects, Hybrid Satellite-Terrestrial Networks, Sensor Networks and High Capacity Satellite Links.
| | |
| --- | --- |
| Pages : | 206 pages |
| File type : | pdf |
| Downloads: | 15 |
| Submitted On: | 2020-08-26 |
| License: | CC BY 3.0 |
| Author(s): | Masoumeh Karimi and Yuri Labrador |
Take advantage of this course called Advances in Satellite Communications to improve your Others skills and better understand Sattelite communication.
This course is adapted to your level as well as all Sattelite communication pdf courses to better enrich your knowledge.
All you need to do is download the training document, open it and start learning Sattelite communication for free.
This tutorial has been prepared for the beginners to help them understand basic Sattelite communication Others. After completing this tutorial you will find yourself at a moderate level of expertise in Sattelite communication from where you can take yourself to next levels.
This tutorial is designed for Sattelite communication students who are completely unaware of Sattelite communication concepts but they have basic understanding on Others training.
Tutorials in the same categorie :