Signal Computing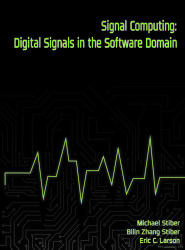 Download free course Signal Computing, pdf file on 207 pages by Michael Stiber, Bilin Zhang Stiber, Eric C. Larson.
In this book, you will learn how digital signals are captured, represented, processed, communicated, and stored in computers. The specific topics we will cover include: physical properties of the source information (such as sound or images), devices for information capture (microphones, cameras), digitization, compression, digital signal representation (JPEG, MPEG), digital signal processing (DSP), and network communication. By the end of this book, you should understand the problems and solutions facing signal computing systems development in the areas of user interfaces, information retrieval, data structures and algorithms, and communications.
Table of contents
Signals in the Physical World

Signals in the Computer

Filtering and Feedforward Filters

The Z-Transform and Convolution

Feedback Filters

Spectral Analysis

Compression

Audio & Video Compression and Coding

Review and Conclusions

Answers to Self-Test Exercises
| | |
| --- | --- |
| Pages : | 207 |
| File type : | PDF |
| Downloads: | 15 |
| Submitted On: | 2022-02-03 |
| License: | CC BY-SA |
| Author(s): | Michael Stiber, Bilin Zhang Stiber, Eric C. Larson |
Take advantage of this course called Signal Computing to improve your Others skills and better understand Computer science.
This course is adapted to your level as well as all Computer science pdf courses to better enrich your knowledge.
All you need to do is download the training document, open it and start learning Computer science for free.
This tutorial has been prepared for the beginners to help them understand basic Computer science Others. After completing this tutorial you will find yourself at a moderate level of expertise in Computer science from where you can take yourself to next levels.
This tutorial is designed for Computer science students who are completely unaware of Computer science concepts but they have basic understanding on Others training.
Tutorials in the same categorie :