Confessions of an IT Manager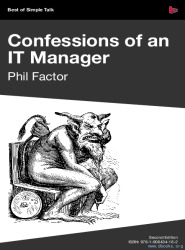 Download free course Confessions of an IT Manager, pdf file on 306 pages by Phil Factor.
From IT projects that have trampled all over the guiding principles of successful development, to tips on training your manager to the required standard, each of Phil's tales is shot through with a wild seam of anarchic humour. And yet, in each case, the humor is just a sugar coating for a pill of sage advice, wrought from years of rough-and-tumble in the IT industry.

In his more reflective moments, he gives vent to his inner poet, penning romantic elegies to the SQL Server index, or quietly condemning recruitment agencies to Dante's inferno for crimes against innocent contractors.

Phil Factor is a legend in his own runtime. Scurrilous, absurd, confessional and scathing by turns, Confessions of an IT Manager targets the idiocy, incompetence and overreach of the IT management industry from vantage point all the way up and down the greasy pole.
Table of contents
On Learning to Love your Manager

The Strange Business of Software

Software Projects: the Good, the Bad and the Pitiful

Hiring, Firing and other acts of Villainy

What If ... ?

Hiccoughs in the Working Day
| | |
| --- | --- |
| Pages : | 306 |
| File type : | PDF |
| Downloads: | 10 |
| Submitted On: | 2022-02-02 |
| License: | For personal or educational use |
| Author(s): | Phil Factor |
Take advantage of this course called Confessions of an IT Manager to improve your Others skills and better understand Computer science.
This course is adapted to your level as well as all Computer science pdf courses to better enrich your knowledge.
All you need to do is download the training document, open it and start learning Computer science for free.
This tutorial has been prepared for the beginners to help them understand basic Computer science Others. After completing this tutorial you will find yourself at a moderate level of expertise in Computer science from where you can take yourself to next levels.
This tutorial is designed for Computer science students who are completely unaware of Computer science concepts but they have basic understanding on Others training.
Tutorials in the same categorie :