Introduction to Ethical Hacking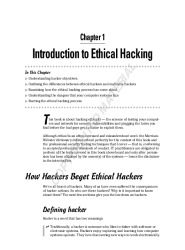 This tutorial is about network security and ethical hacker, hacking is the science of testing network for security vulnerabilities and plugging the holes you
find before the bad guys get a chance to exploit them.
An ethical hacker is an expert hired by a company to try to tackle their network and computer system in the same way as an intruder. Ethics Hackers use the same techniques and tactics that are used by illegal hackers for breaching corporate security systems. The end result is the ability of the company to avoid an intrusion before it ever happens.
Table of contents
How Hackers Beget Ethical Hackers
Defining hacker
Ethical Hacking
Understanding the Need to Hack Your Own Systems
Understanding the Dangers Your Systems Face
Nontechnical attacks
Network-infrastructure attacks
Operating-system attacks
Application and other specialized attacks
Obeying the Ethical Hacking Commandments
Respecting privacy
Not crashing your systems
The Ethical Hacking Process
Selecting tools
Executing the plan
Evaluating results
| | |
| --- | --- |
| Pages : | |
| File type : | pdf |
| Downloads: | 3675 |
| Submitted On: | 2018-04-04 |
| License: | |
| Author(s): | |
Take advantage of this course called Introduction to Ethical Hacking to improve your Networking skills and better understand Hacking.
This course is adapted to your level as well as all Hacking pdf courses to better enrich your knowledge.
All you need to do is download the training document, open it and start learning Hacking for free.
This tutorial has been prepared for the beginners to help them understand basic Hacking Networking. After completing this tutorial you will find yourself at a moderate level of expertise in Hacking from where you can take yourself to next levels.
This tutorial is designed for Hacking students who are completely unaware of Hacking concepts but they have basic understanding on Networking training.
Tutorials in the same categorie :