XML by Examples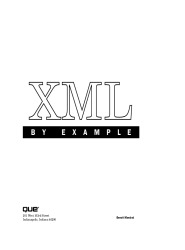 A complet PDF tutorial about XML,XSL and XSLT under 528 pages, it assumed that you have some basic HTML coding experience but you don't need to be an expert.
Table of contents
Introduction
The XML Syntax
XML Schemas
Namespaces
XSL Transformation
XSL and Style Sheet
The Parser and DOM
Writing XML
Modeling for Flexibility
N-Tiered Architecture and XML
XML Software
XML Browser
XML Editors
XML Parsers
XSL Processor
XML Schemas
The DTD Syntax
Basic XSLT
The Parser and DOM
DOM and Java
DOM in Application
Creating Documents from Non-XML Data Structure
XML on the Middle Tier
CSS and XML Editors 
| | |
| --- | --- |
| File size : | 3,435.97 Kb |
| Downloads: | 276 |
| Submitted On: | 2015-11-23 |
Take advantage of this course called XML by Examples to improve your Web development skills and better understand XML.
This course is adapted to your level as well as all XML pdf courses to better enrich your knowledge.
All you need to do is download the training document, open it and start learning XML for free.
This tutorial has been prepared for the beginners to help them understand basic XML Web development. After completing this tutorial you will find yourself at a moderate level of expertise in XML from where you can take yourself to next levels.
This tutorial is designed for XML students who are completely unaware of XML concepts but they have basic understanding on Web development training.
Tutorials in the same categorie :