Download Cobol Tutorial in PDF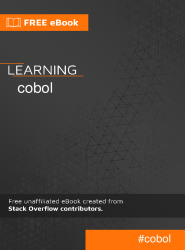 Table of contents
About
Getting started with cobol
Remarks
Standard Specification
Principal field of use
Category
Decimal Math
History
Structure
Data Descriptions
Procedural statements
Examples
Hello, world
Install gnu-cobol on Mac OS X
ACCEPT statement
Remarks
Examples
ACCEPT statement
ADD statement
Remarks
Examples
ADD statement
ALLOCATE statement
Remarks
Examples
ALLOCATE statement
ALTER statement
Remarks
Examples
A contrived example using ALTER
ACCEPT statement
ALLOCATE statement
CALL statement
COMMIT statement
CONTINUE statement
Data division
DISPLAY statement
EVALUATE statement
FREE statement
GnuCOBOL installation with GNU/Linux
GOBACK statement
IF statement
INITIATE statement
Intrinsic Functions
MOVE statement
OPEN statement
READ statement
REPLACE directive
REWRITE statement
SET statement
START statement
String
SUBTRACT statement
TERMINATE statement
UNSTRING statement
WRITE statement
It is a free Cobol ebook created for beginners. The content is extracted from Stack Overflow pltaform, which is written by many Cobol developers and contributors.
The content is released under Creative Commons BY-SA
| | |
| --- | --- |
| Pages : | |
| File type : | pdf |
| Downloads: | 901 |
| Submitted On: | 2019-05-02 |
| License: | |
| Author(s): | |
Take advantage of this course called Download Cobol Tutorial in PDF to improve your Programming skills and better understand Cobol.
This course is adapted to your level as well as all Cobol pdf courses to better enrich your knowledge.
All you need to do is download the training document, open it and start learning Cobol for free.
This tutorial has been prepared for the beginners to help them understand basic Cobol Programming. After completing this tutorial you will find yourself at a moderate level of expertise in Cobol from where you can take yourself to next levels.
This tutorial is designed for Cobol students who are completely unaware of Cobol concepts but they have basic understanding on Programming training.
Tutorials in the same categorie :