Home
»
Others
»
What is the Text Encoding Initiative? How to add intelligent markup to digital resources
What is the Text Encoding Initiative? How to add intelligent markup to digital resources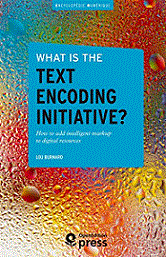 The Text Encoding Initiative (TEI) Guidelines have long been regarded as the de facto standard for the preparation of digital textual resources in the scholarly research community. For the beginner, they offer a daunting range of possibilities, reflecting the huge range of potential applications for text encoding, from traditional scholarly editions, to language corpora, historical lexicons, digital archives and beyond.
Drawing on many examples of TEI-encoded text from a variety of research domains, this simple and straightforward book is intended to help the beginner make their own choices from the full range of TEI options. It explains the XML technology used by the TEI in language accessible to the non-technical reader and provides a guided tour of the many parts of the TEI universe, and how it may be customized to suit an individual project's needs. This work has been produced with the support of Labex Hastec.
| | |
| --- | --- |
| Paperback : | 128 pages |
| eBook : | HTML |
| Downloads: | 12 |
| Submitted On: | 2020-08-30 |
| License: | CC BY-NC-ND 3.0 FR |
| Author(s): | Lou Burnard |
Take advantage of this course called What is the Text Encoding Initiative? How to add intelligent markup to digital resources to improve your Others skills and better understand Text Encoding Initiative.
This course is adapted to your level as well as all Text Encoding Initiative pdf courses to better enrich your knowledge.
All you need to do is download the training document, open it and start learning Text Encoding Initiative for free.
This tutorial has been prepared for the beginners to help them understand basic Text Encoding Initiative Others. After completing this tutorial you will find yourself at a moderate level of expertise in Text Encoding Initiative from where you can take yourself to next levels.
This tutorial is designed for Text Encoding Initiative students who are completely unaware of Text Encoding Initiative concepts but they have basic understanding on Others training.
Tutorials in the same categorie :