Software Innovation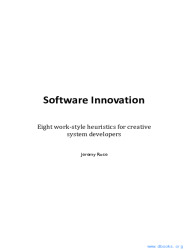 Download free course Software Innovation, pdf file on 129 pages by Jeremy Rose.
Innovation is the forgotten key to modern systems development - the element that defines the enterprising engineer, the thriving software firm and the cutting edge software application. Traditional forms of technical education pay little attention to creativity - often encouraging overly rationalistic ways of thinking which stifle the ability to innovate. Professional software developers are often drowned in commercial drudgery and overwhelmed by work pressure and deadlines. The topic that will both ensure success in the market and revitalize their work lives is never addressed. This book sets out the new field of software innovation. It organizes the existing scientific research into eight simple heuristics - guiding principles for organizing a system developer's work-life so that it focuses on innovation.
Table of contents
Keep your head up: software trajectories and innovation windows

Grow your community: network, knowledge, learning

Target the product's innovation profile: innovative software

Shape your own process: software process and innovation

Develop your personal creativity: the creative software developer

Be a super-team-worker: the innovative software team

Bring your toolbox: creativity tools and techniques

Know when you are (not) innovative: assessment and evaluation

Software innovation: eight work-style heuristics for innovative system developers
| | |
| --- | --- |
| Pages : | 129 |
| File type : | PDF |
| Downloads: | 7 |
| Submitted On: | 2022-02-03 |
| License: | Open Publication License |
| Author(s): | Jeremy Rose |
Take advantage of this course called Software Innovation to improve your Others skills and better understand Computer science.
This course is adapted to your level as well as all Computer science pdf courses to better enrich your knowledge.
All you need to do is download the training document, open it and start learning Computer science for free.
This tutorial has been prepared for the beginners to help them understand basic Computer science Others. After completing this tutorial you will find yourself at a moderate level of expertise in Computer science from where you can take yourself to next levels.
This tutorial is designed for Computer science students who are completely unaware of Computer science concepts but they have basic understanding on Others training.
Tutorials in the same categorie :