R for Data Science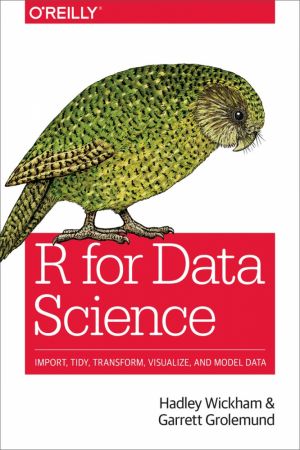 Download free course R for Data Science, pdf file on 520 pages by Garrett Grolemund, Hadley Wickham.
Learn how to use R to turn raw data into insight, knowledge, and understanding. This book introduces you to R, RStudio, and the tidyverse, a collection of R packages designed to work together to make data science fast, fluent, and fun. Suitable for readers with no previous programming experience, R for Data Science is designed to get you doing data science as quickly as possible.
Authors Hadley Wickham and Garrett Grolemund guide you through the steps of importing, wrangling, exploring, and modeling your data and communicating the results. You'll get a complete, big-picture understanding of the data science cycle, along with basic tools you need to manage the details. Each section of the book is paired with exercises to help you practice what you've learned along the way.
You'll learn how to:
Wrangle: transform your datasets into a form convenient for analysis;
Program: learn powerful R tools for solving data problems with greater clarity and ease;
Explore: examine your data, generate hypotheses, and quickly test them;
Model: provide a low-dimensional summary that captures true "signals" in your dataset;
Communicate: learn R Markdown for integrating prose, code, and results.

Table of contents


Introduction

Introduction

Data visualisation

Workflow: basics

Data transformation

Workflow: scripts

Exploratory Data Analysis

Workflow: projects

Introduction

Tibbles

Data import

Tidy data

Relational data

Strings

Factors

Dates and times

Introduction

Pipes

Functions

Vectors

Iteration

Introduction

Model basics

Model building

Many models

Introduction

R Markdown

Graphics for communication

R Markdown formats

R Markdown workflow
| | |
| --- | --- |
| Pages : | 520 |
| File type : | PDF |
| Downloads: | 16 |
| Submitted On: | 2022-02-03 |
| License: | CC BY-NC-ND |
| Author(s): | Garrett Grolemund, Hadley Wickham |
Take advantage of this course called R for Data Science to improve your Others skills and better understand Computer science, Data recovery.
This course is adapted to your level as well as all Computer science, Data recovery pdf courses to better enrich your knowledge.
All you need to do is download the training document, open it and start learning Computer science, Data recovery for free.
This tutorial has been prepared for the beginners to help them understand basic Computer science, Data recovery Others. After completing this tutorial you will find yourself at a moderate level of expertise in Computer science, Data recovery from where you can take yourself to next levels.
This tutorial is designed for Computer science, Data recovery students who are completely unaware of Computer science, Data recovery concepts but they have basic understanding on Others training.
Tutorials in the same categorie :