Getting Started with Maya 7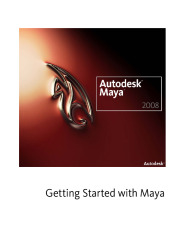 This pdf tutorial introduces the different areas of Maya in a set of brief lessons. The lessons are designed to let you learn these modules at your own pace.
If you are new to Maya, this guide provides a starting point for understanding the basics of Maya software.
Table of content
Installing Maya
Maya Basics
The Maya user interface
Introduction
Starting Maya
The Maya interface
Saving your work
Creating, manipulating, and viewing objects
The Channel Box
Duplicating objects
Creating a project
Save your work
Viewing the Maya 3D scene
Selection modes and masks
Pivot points
Components and attributes
The Attribute Editor
Surface materials
Using 2D reference images
Creating a polygon primitive
Modeling in shaded mode
Adding polygons to a mesh
Splitting polygon faces
Terminating edge loops
Revolving a curve to create a surface
Preparing a surface for sculpting
Basic sculpting techniques
Additional sculpting techniques
Lofting curves to create a surface
Lesson 1 Modeling a subdivision surface
Creating a subdivision surface
Splitting a surface in polygon proxy mode
Animating an object along a motion path
Changing the timing of an object along a motion path
Rotating an object along a motion path
Excerpt from course
The Toolbox: Layout shortcuts
The Toolbox is located on the left hand side of the Maya user interface. It contains icons that open tools for transforming your objects within Maya (selection, move, rotate, scale) as well as layout shortcuts for changing the views and panel layouts.
The Quick Layout buttons shortcuts allow you to select a different panel or switch to another layout.
| | |
| --- | --- |
| Pages : | |
| File type : | pdf |
| Downloads: | 191 |
| Submitted On: | 2016-02-01 |
| License: | |
| Author(s): | |
Take advantage of this course called Getting Started with Maya 7 to improve your Others skills and better understand maya.
This course is adapted to your level as well as all maya pdf courses to better enrich your knowledge.
All you need to do is download the training document, open it and start learning maya for free.
This tutorial has been prepared for the beginners to help them understand basic maya Others. After completing this tutorial you will find yourself at a moderate level of expertise in maya from where you can take yourself to next levels.
This tutorial is designed for maya students who are completely unaware of maya concepts but they have basic understanding on Others training.
Tutorials in the same categorie :