Learning Docker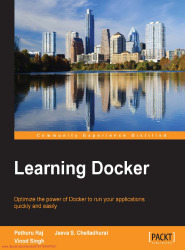 Docker is a next-generation platform for simplifying application containerization life-cycle. Docker allows you to create a robust and resilient environment in which you can generate portable, composable, scalable, and stable application containers. This book is a step-by-step guide that will walk you through the various features of Docker from Docker software installation to the impenetrable security of containers. The book starts off by elucidating the installation procedure for Docker and a few troubleshooting techniques. You will be introduced to the process of downloading Docker images and running them as containers. You'll learn how to run containers as a service (CaaS) and also discover how to share data among containers. Later on, you'll explore how to establish the link between containers and orchestrate containers using Docker Compose. You will also come across relevant details about application testing inside a container. You will discover how to debug a container using the docker exec command and the nsenter tool. Finally, you will learn how to secure your containers with SELinux and other proven methods.
Download free tutorial in PDF (240 pages) created by Pethuru Raj .
| | |
| --- | --- |
| Pages : | 240 |
| File type : | PDF |
| Downloads: | 37 |
| Submitted On: | 2021-05-15 |
| License: | Free |
| Author(s): | Pethuru Raj |
Take advantage of this course called Learning Docker to improve your Others skills and better understand Learning Docker.
This course is adapted to your level as well as all Learning Docker pdf courses to better enrich your knowledge.
All you need to do is download the training document, open it and start learning Learning Docker for free.
This tutorial has been prepared for the beginners to help them understand basic Learning Docker Others. After completing this tutorial you will find yourself at a moderate level of expertise in Learning Docker from where you can take yourself to next levels.
This tutorial is designed for Learning Docker students who are completely unaware of Learning Docker concepts but they have basic understanding on Others training.
Tutorials in the same categorie :