Home
»
Programming
»
IPython Interactive Computing and Visualization Cookbook
IPython Interactive Computing and Visualization Cookbook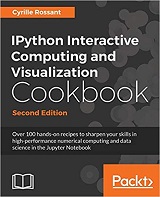 This book contains many ready-to-use, focused recipes for high-performance scientific computing and data analysis, from the latest IPython/Jupyter features to the most advanced tricks, to help you write better and faster code. You will apply these state-of-the-art methods to various real-world examples, illustrating topics in applied mathematics, scientific modeling, and machine learning.
It is for anyone interested in numerical computing and data science: students, researchers, teachers, engineers, analysts, and hobbyists. Basic knowledge of Python/NumPy is recommended. Some skills in mathematics will help you understand the theory behind the computational methods.
| | |
| --- | --- |
| Pages : | 548 pages |
| File type : | pdf |
| Downloads: | 54 |
| Submitted On: | 2020-08-29 |
| License: | CC BY-NC-ND 3.0 US |
| Author(s): | Cyrille Rossant |
Take advantage of this course called IPython Interactive Computing and Visualization Cookbook to improve your Programming skills and better understand Python.
This course is adapted to your level as well as all Python pdf courses to better enrich your knowledge.
All you need to do is download the training document, open it and start learning Python for free.
This tutorial has been prepared for the beginners to help them understand basic Python Programming. After completing this tutorial you will find yourself at a moderate level of expertise in Python from where you can take yourself to next levels.
This tutorial is designed for Python students who are completely unaware of Python concepts but they have basic understanding on Programming training.
Tutorials in the same categorie :