Home
»
Programming
»
Automate the Boring Stuff with Python: Practical Programming for Total Beginners
Automate the Boring Stuff with Python: Practical Programming for Total Beginners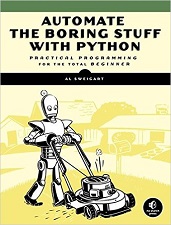 If you've ever spent hours renaming files or updating hundreds of spreadsheet cells, you know how tedious tasks like these can be. But what if you could have your computer do them for you?
In this, you'll learn how to use Python to write programs that do in minutes what would take you hours to do by hand - no prior programming experience required. Once you've mastered the basics of programming, you'll create Python programs that effortlessly perform useful and impressive feats of automation to:
| | |
| --- | --- |
| Pages : | : 504 pages |
| File type : | pdf |
| Downloads: | 87 |
| Submitted On: | 2020-08-28 |
| License: | Creative Commons Attribution-NonCommercial-ShareAlike 3.0 Unported (CC BY-NC-SA 3.0) |
| Author(s): | Al Sweigart |
Take advantage of this course called Automate the Boring Stuff with Python: Practical Programming for Total Beginners to improve your Programming skills and better understand Python.
This course is adapted to your level as well as all Python pdf courses to better enrich your knowledge.
All you need to do is download the training document, open it and start learning Python for free.
This tutorial has been prepared for the beginners to help them understand basic Python Programming. After completing this tutorial you will find yourself at a moderate level of expertise in Python from where you can take yourself to next levels.
This tutorial is designed for Python students who are completely unaware of Python concepts but they have basic understanding on Programming training.
Tutorials in the same categorie :