Mastering Dyalog APL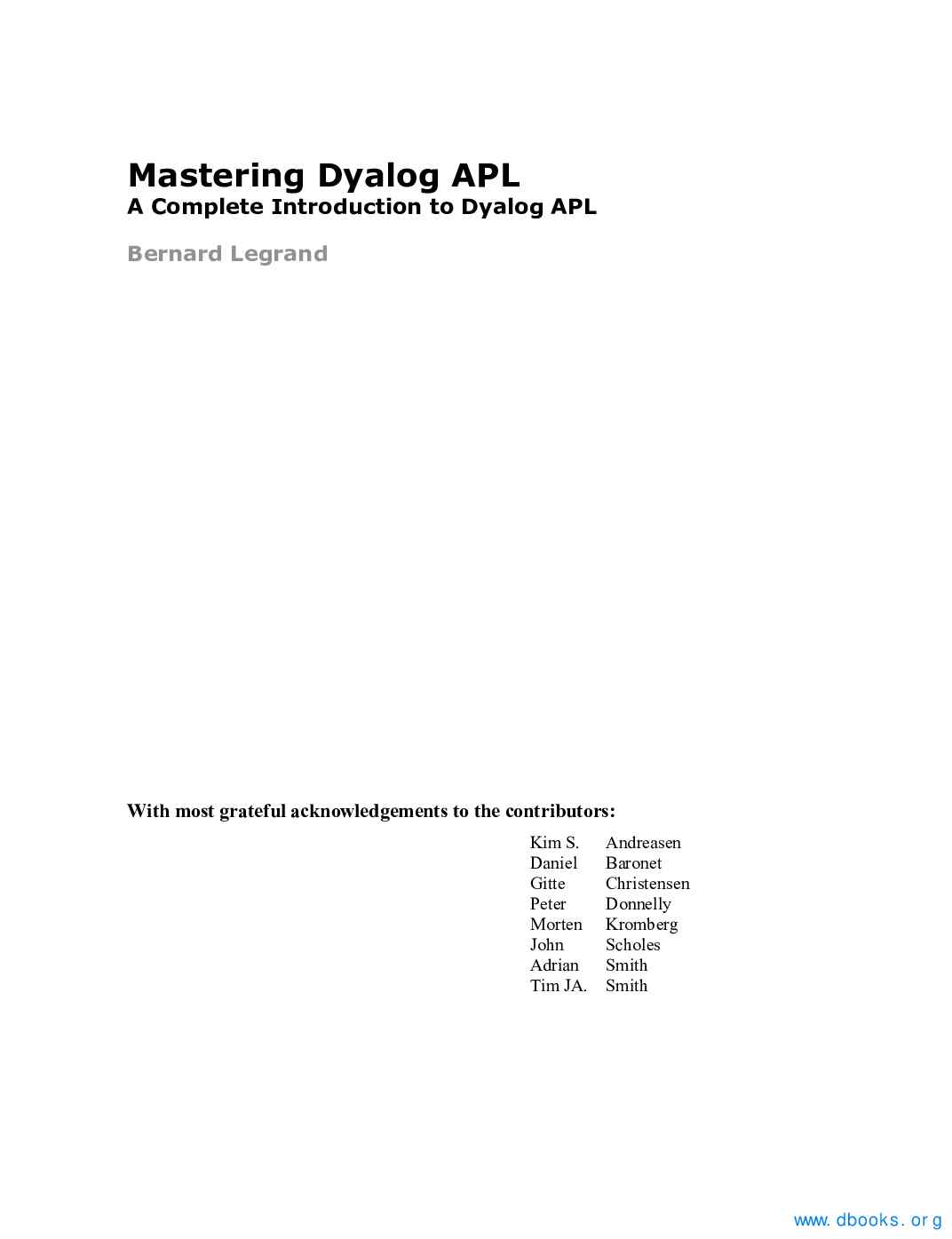 Download free course Mastering Dyalog APL, pdf file on 818 pages by Bernard Legrand.
Mastering Dyalog APL is a complete guide to the use of Dyalog, beginning with a thorough introduction to the APL programming language. Following this, the tutorial describes a large number of common coding techniques and discusses a variety of interfaces, including file handling and COM/OLE. Bernard Legrand provides a comprehensive introduction to developing Graphical User Interfaces in Dyalog and wraps up with an overview of the publishing tool NewLeaf and the RainPro graphics engine, both of which are included with Dyalog.

This book is specifically aimed at helping new users get started with Dyalog and advancing them to a point where they can produce working solutions by expressing ideas directly in APL. Step by step, this book gives the reader a thorough grounding in the philosophy of the APL language, and the many examples illustrate the practical capabilities of this dynamic software development environment. Each chapter ends with a set of exercises through which both beginners and advanced readers can test their skills as they progress through the course. Solutions with detailed explanations are given in the final chapter.

Although the book is primarily aimed at new developers and is suitable for students with no prior programming experience, most chapters end with a "Specialist's Section" containing tips and tricks that will be of interest to readers with experience with programming and some prior knowledge of APL.
Table of contents
Getting Started

Data and Variables

Some Primitive Functions

User Defined Functions

First Aid Kit

Execute & Format Control

Working on Data Shape

Special Syntax

Nested Arrays (Continued)

Operators

Mathematical Functions

System Interfaces

Event Handling

File Processing

Namespaces

Graphical User Interface

Interfaces

SALT

Publishing Tools

Solutions
| | |
| --- | --- |
| Pages : | 818 |
| File type : | PDF |
| Downloads: | 5 |
| Submitted On: | 2022-02-03 |
| License: | MIT License |
| Author(s): | Bernard Legrand |
Take advantage of this course called Mastering Dyalog APL to improve your Others skills and better understand Computer science.
This course is adapted to your level as well as all Computer science pdf courses to better enrich your knowledge.
All you need to do is download the training document, open it and start learning Computer science for free.
This tutorial has been prepared for the beginners to help them understand basic Computer science Others. After completing this tutorial you will find yourself at a moderate level of expertise in Computer science from where you can take yourself to next levels.
This tutorial is designed for Computer science students who are completely unaware of Computer science concepts but they have basic understanding on Others training.
Tutorials in the same categorie :